Our annual book sale will take place on Saturday, May 13, 10:00 to 16:00 in the church and Anglican Centre.
As always, we need lots of helpers to make it all run smoothly:
Friday Evening: we need people to help set out the books attractively (approx. 18:00-21:00 starting in the centre),
Saturday: we need friendly sales assistants and cashiers to turn St. Catherine's into an amazing book store! Sign up for a shift – let us know what time you are available between 09:00-16:00
We need lots of luscious home-baked goodies – for the bake sale. so if you're a kitchen god or goddess, get busy!
Naomi would also welcome some support in cutting cake and pouring tea/coffee on the day.
Finally, when all is over at 16:00, we will need a team to pack the left-overs away again, for next year…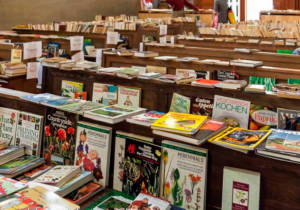 If you would like to be a part of this big fund-raising event, get in touch with Susanna Thielecke booksale@stcatherines-stuttgart.de or Naomi Billard cakes@stcatherines-stuttgart.de.
Even if you can't help on the day, you can assist us in getting the word out – tell all your friends, or take some flyers from the back of church and distribute them!
And finally – make sure you put a note in your diary to come and shop yourself!