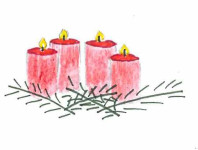 On the Fourth Sunday of Advent we lit a Fourth candle:
the candle of LOVE.
If you have advent candles at home – light Four candles each day until Christmas.
Here is a Prayer you might like to use as you do so:
We light this candle to remind us that the transforming love of God is coming into the world.
God with us, God beside us, comes soon to the world he has made.
We are God's children:
We seek the coming of Christ. Come Lord Jesus. Amen.
---
Bible Reading
The true Light comes among us – John 1.9-14
Music
Story