= the importance of ending well =
Yesterday we said a heartfelt (though pandemic-reduced) farewell to one of our Associate Priests.
Why now ? ask Wolfgang !! – the reasons are good and sound and even sensible. Wolfgang has served St Catherine's in Stuttgart and Kempten for ten years, always with a sparkle in his eyes and boundless energy and above all from the heart. So yesterday, there were flowers (very German of course) and chocolates and things said and written down and made and given. All these are symbols in many cultures of warmth and of gratitude. And if you've not had chance to say your own personal 'Thank You' but would like to – then send to me or Wolfgang in whatever format …..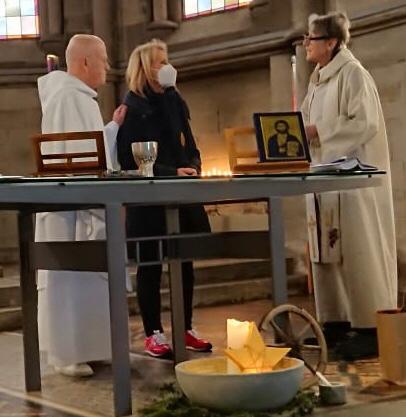 There was also his last Celebrating at the Eucharist, and for an Anglican Priest, that is both very moving and very significant. This is not primarily about something he will no longer be able to DO (like giving up driving or running marathons). It is much more about 'being' and moving into a different type of 'being'. Wolfgang remains a priest, which is a calling for life, but he is now moving into a different, and less public, type of being a priest. And our love and prayers are with him as he makes this transition, as he discerns what the God who called him into ministry and priesthood, has for him still. And if you get a moment then here is an opportunity to reflect on what God has called each of us personally to be and do in his service ….
Let me do a sideways jump and use two very different examples of Endings:
We have in recent times begun to recognise the significance of good endings.
-First example is education and leaving certificates and graduation events are not only about important pieces of paper for the next steps, but those occasions mark something. A key word here is 'Completion'.
-The word Euthanasia means a 'good death'. For most people that is about limiting suffering and especially pain. These things are managed better than they were. In Western culture it is also about control and about choice. Recognising here the mental anguish when control and choice are taken from us. I will not of course get into this debate. A key word here too, though it may be a question rather than a statement, is also 'Completion ?'.
Back to the good ending of a ministry:
When we said farewell to Joachim from the AKs in 2019, he was 'released' from his responsibilities by their bishop. As was I in the Church of England parish ahead of my move to Stuttgart in 2018.
The celebration is great, as is the gratitude when it is expressed with the joy that was evident yesterday.
The releasing of responsibilities is significant. One aspect of that which we did not include for Wolfgang (nor would for any of our PTOs), but which is now a main part of farewells for licensed clergy, is that there is a penitential element. An opportunity for parish and priest (church and chaplain in our case) to acknowledge that by virtue of being human, we will have caused damage to each other. It allows both parish and priest to move on to new responsibilities, and new search for next priest, with a clean slate as it were. This was an element of my leaving the last 2 jobs.
A spiritual way of a good ending, a completion.
I hope and pray Wolfgang feels his official ministry at St Catherine's has ended well. The pandemic has meant he has recently not been as active as he and I would like him to have been, but that is true of so many aspects of life currently. All the more important then to not just fizzle out, but to mark the occasion, to end well, to complete.
It invites us all to reflect in our turn about what endings we have lived through and which have been good and which have been less good and what factors are involved in such things in the myriad of contexts your examples might come from….. and who are the people we share such endings with ?
May you find much blessing in such reflections.