Notices for weekend 13./14. March 2021
Lent@ St. Catherine's
Picture this week – post-pandemic resurrection as we mark a full year and give thanks to God for his goodness and grace
Palm Sunday – on Sunday 28.03. @16:00 a service for any and all who wish to join in on Zoom with the usual Passion Reading (If you would like a part let the Chaplain know who will email you text – family groupings of disciples or by-standers or priests or accusers or soldiers …. could work very well on zoom and this notice is now urgent)
Z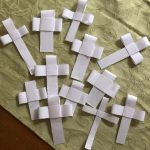 oom Palm Cross Making – Following the instructions here we have been invited to make our own Palm Cross to bring to the zoom service on Sunday 28th March. If, like the webmaster, you discover that "the gift of paper folding" is one you are missing and your strip of paper is stuck at step 2… you are invited to join us at 11am 21st March after zoom coffee for a step by step workshop. Code as usual from the Chaplain.
Alternatively collect a Palm Cross from church during Lent Open Church times
Easter Weekend and Holy Week – we have to share the use of church
Maundy Thursday – there will be Online resources available
Good Friday – an Online 'Stations of the Cross' resource for your reflections and prayers
Holy Saturday – the Exsultet will go Online as it did last year plus a chance for you to light your Baptism Candle(s) and remember/ renew your Baptism Vows
Easter Sunday – we will be able to celebrate an Easter Morning Eucharist @10:30 (sign up form is already up and if we need to hold this service twice – as we did Christmas – we will offer the same service again on Easter Monday also @10:30)
For all of the above – attendance in church requires advanced registration and all the regulations we are now used to.
Zoom Codes are available from the Chaplain.
---
Revision of Electoral Roll and preparation for Annual Church Meeting
If you have settled in with us at St. Catherine's and made this your church in Stuttgart, now is the time to consider whether you would like to be added to the electoral roll. This is a way for your to formalise your membership and sense of belonging. It doesn't invalidate any church membership elsewhere. But it does allow you to vote and stand for election at the Annual Church Meeting. More details and forms can be found here. Please return forms to electoral_roll_officer@stcatherines-stuttgart.de by 28th March 2021.
Any questions can also be sent to this address
---
Lent on Sundays
Prayers of Intercession – usually we put a world map behind the altar and invite small candles to be lit in prayer for whatever country…. Online the map will be there as part of our HomeChurch resources and we will pray each Sunday for some of the 20 countries that currently make up the Stuttgart part of the St Catherine's church family
– a weekly parable and activity for children and young people
– every Sunday evening – why not join the short reflective service of Compline for 5 weeks on Zoom @21.00
Lent midweek
– every Wednesday 14:00-16:00 and every Saturday 15:45-16:30 the church will be open for your reflections (and resources, based on seasonal hymns, will be available)
– every Wednesday also – why not join the Bible Study group for 5 weeks on Zoom @19:30
– Saturdays 17:00 – R2C in church – Covid-19 and its mutations permitting – we aim to offer a Shortened Eucharist for all of the next 5 Saturdays. Advance registration is required – contact the Chaplain chaplain@stcatherines-stuttgart.de.
---
PrayerPost
– for this week's focus countries: on the full anniversary of Lockdown1 in Stuttgart we pray for all the places where people known to us have been deeply affected by this pandemic (we return next weekend to praying for the nations from which our church family originated)
– for all who have their baptism anniversaries in March (Anthoinette and Tracey and Laurine and Brian plus any adults) and for all who celebrate a birthday this month (Quenby and any adults)
– for all considering and/or preparing for Confirmation (let chaplain know if you want to join in – service on 11.07.21)
– for the ongoing roll out of vaccines across many parts of the world and those seeking justice within that process
– for those who have especially asked for prayer
---
---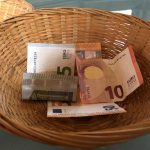 If you have the means to do so, please give what you would have put in the weekly collection plate via bank transfer.
Kontoinhaber : Friends of the English Church e.V.
IBAN: DE39 6009 0100 0587 2530 02
Bank: Volksbank Stuttgart
For regular giving to St. Catherine's setting up a "Dauerauftrag", if you can, means you don't have to remember to do this at the end of every service and helps support the on-going fixed costs of St. Catherine's.
Thank you supporting our church.
Yours Lord is the greatness, the splendour and the majesty.
Everything we have comes from you and of your own do we give you.