This is one of the times in the year when St Catherine's really gets to practice its Welcome as most of our worshippers around Christmas are visitors.
– To the people of St Catherine's – safe travels and much joy in time away and time with friends and family
– To any visitors – come and join us you are very welcome
And to all 'may Joy and Peace abound and Hope be ours to share with those who need it'.
#prayers
as we welcome Christ the Prince of Peace in our midst, we pray for:
peace in our world and especially in those places that has experienced violence this past year
peace among those who daily live with fear
peace in the communities in which we live and work
peace in our church which has had its own storms this year which continue to challenge us
peace in our homes and our hearts
and God's strength and courage to be peacemakers and bridge builders
SERVICES:
Tuesday 24th December – 14:00 – Crib Service with blessing of crib – everyone young and old is invited to dress up as something from the Christmas story – the theme is stars so glitter especially welcome (and who knows whether Harry Potter, Batman or the odd penguin may have turned up to worship at the manger)
Tuesday 24th December – 20:00 – Christmas Eve Eucharist – with candles, carols and organ
Wednesday 25th December – 10:00 – Christmas Day Family Eucharist
Sunday 29th December – 11:15 Christmas 1 – Bilingual Eucharist held jointly with the Old Catholics
For those who would like to (re)read it, here is Julie's sermon from Sunday 22nd Dec.
---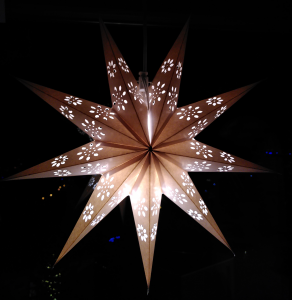 Once again:
"The people who walked in darkness have seen a great light; those who lived in the land of deep darkness – on them light has shined."

Isaiah 9 v. 2
---
Now the 'Lessons and Carols' service is sadly behind us for this year: Ongoing ways of 'serving' / 'worshipping':
• pray for the projects we will be supporting this year – which you can still do even if you are away on your travels already or even if you don't live in Stuttgart but have a link with St Catherine's
• support the 'giving' this year – – which you can also still do from afar by bank transfer Please clearly mark your donation "Christmas giving".
A reminder of the projects
1) CAFÉ- STRICH- PUNKT
This association seeks to support young people in particular difficulties, often in very practical ways. This requires funding and also those able and willing to do voluntary work. The support can be online or in real time. The need can be as immediate as being homeless, or as long term as relationship-based support e.g. bridge building back into families. There is street work and consultation, drop-in and medical help and advice, plus more than can be listed. This is very local work that, we as good neighbours, have supported for a long time. http://www.verein-jugendliche.de/home/
2) POST-EBOLA-RECONSTRUCTION
Alongside the local support, we support at least one project that is global. At the Gospel Concert this year we helped raise 1600€ towards the building of a well in rural Yemen. Tonight we turn our focus towards the Internal Province of West Africa. The work is 'managed' under the Anglican Umbrella of the six dioceses in that region, in partnership with the Mission Organisation USPG which has a long standing history there. This approach combines resources and expertise in the local context, with the transparency of established, world-wide organisations.
Three countries in this region were hit by Ebola – Guinea, Liberia, Sierra Leone. Though the pandemic has waned, there is work to be done, not only in follow up, but also in anticipation and preparation, should Ebola return. Churches are key agents in rebuilding health facilities such as hospitals and clinics, with training of new staff and the provision of medicines and salaries for staff. Beyond such basics there are countless further areas of rebuilding infrastructure destroyed by Ebola – such as supporting those who are now vulnerable because they are orphans or widowed or have lost their livelihood and the means of financial independence. https://www.uspg.org.uk/worldwide/ipwa/