Our hopefully, temporary service schedule due to the Corona Virus prevention measures
Return2Church
Corona numbers and local restrictions permitting: Saturdays @17:00 in St. Catherine's.
A menu of liturgies, with 'distancing'.
Readings, prayers and some hymns are the same as those for the Online Service so as to keep a sense of 'worshipping together'
Home Church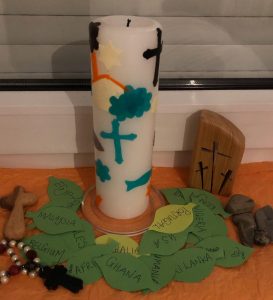 Sundays @11.15 (or time and day to suit your home)
St Catherine's HomeChurch resources offer a series of liturgies for morning or evening with additional hymns, audio prayers, readings, sermon and children's activities.
Bible Readings follow the Church of England's Common Worship Lectionary.
---
We look forward to the return to:
Sunday School
There is currently no Sunday School but provision is made for children in our Online Service Resources.
Joint worship with the Old Catholics
Also currently not taking place is the long-established 5th Sunday in the month joint service taking the form of a German-English bi-lingual service, hosted alternately by the Old Catholics and St. Catherine's though we pray for one another and especially on those Sundays.
Special occasions
Seasonal events are held on Advent Sunday and Christmas and Epiphany, also 'Pancake Sunday' and Ash Wednesday (ecumenical), then Palm Sunday and Maundy Thursday, Good Friday (ecumenical), Easter Vigil (ecumenical), Easter Sunday, an Ascension Day walk, Pentecost, Forest Church, Starting School Sunday, Harvest and topping off the year with our Patronal Festival.
Lessons & Carols
One annual highlight is the service of 'Lessons and Carols' held in the Leonhardskirche which doubles up as an opportunity to give generously to organisations working amongst some of the desperate, both globally and locally.