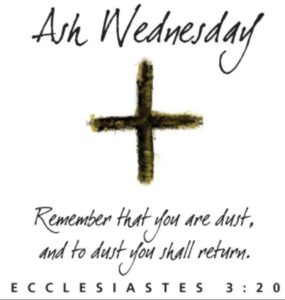 Lent is the period of forty days which comes before Easter in the Christian calendar. Beginning on Ash Wednesday, Lent is a season for reflection and preparation before the celebrations of Easter. By observing the forty days of Lent, Christians reflect upon Jesus Christ's self-discipline and withdrawal into the desert for forty days. Lent is marked by fasting, both from food and festivities. Whereas Easter celebrates the resurrection of Jesus after his death on the cross, Lent recalls the events leading up to and including Jesus' crucifixion. The Christian churches that observe Lent in the 21. Century use it as a time of prayer and reflection. Only a small number of people fast for the whole of Lent, although some maintain the practice on Ash Wednesday and Good Friday. It is more common these days for believers to surrender something, such as favourite foods, or surrender time and money to make a difference to those in need. Whatever the sacrifice, it is a mere reflection of Jesus' deprivation in the wilderness and a test of self-discipline.
Shrove Tuesday is the day before Lent starts: the Tuesday before Ash Wednesday.
It is a day of celebration as the last chance to feast before Lent begins. Shrove Tuesday is sometimes called Pancake Day. But there is more to Shrove Tuesday than eating pancakes or taking part in a pancake race. The pancakes themselves are part of an ancient custom with deeply religious roots, using up 'rich' foods before the 'leaner' weeks of Lent. Shrove Tuesday gets its name from the ritual of 'shriving' that Christians used to undergo in the past. In shriving, a person confesses their sins, they are forgiven for them and released from the guilt and pain that are caused by them.
Ash Wednesday is the beginning of Lent for western Christian churches.
It is a day of penitence to cleanse the soul at the beginning of the Lent fast. In Ash Wednesday services, worshippers are marked on the forehead with a cross of ashes as a sign of both penitence and of our mortality. The use of ashes, made by burning palm crosses from the previous year, is thus very symbolic and sobering.
---
Ash Wednesday Collect:
Almighty and everlasting God
you hate nothing that you have made and forgive the sins of all those who are penitent. Create and make in us new and contrite hearts that we,
worthily lamenting our sins and acknowledging our wretchedness,
may receive from you, the God of all mercy,
perfect remission and forgiveness;
through Jesus Christ our Lord.
Amen.
---
Scripture Reading:
Is not this the fast that I choose: to loose the bonds of injustice, to undo the thongs of the yoke, to let the oppressed go free, and to break every yoke? Is it not to share your bread with the hungry, and bring the homeless poor into your house; when you see the naked, to cover them, and not to hide yourself from your own kin?
Isaiah 58. 6,7
A HYMN to use as a Poem for Reflection:
My song is love unknown
my Saviour's love to me
love to the loveless shown                                                                                                                      that they might lovely be.
O who am I that for my sake                                                                                                              my Lord should take frail flesh and die ?
He came from His blest throne                                                                                                         salvation to bestow
but men made strange                                                                                                                      and none the longed-for Christ would know                                                                                       but O my Friend my Friend indeed
who at my need His life did spend !
Sometimes they strew His way
and His sweet praises sing                                                                                                                     resounding all the day
hosannas to their King.
Then 'Crucify!' is all their breath
and for His death they thirst and cry.
They rise and needs will have                                                                                                                 my dear Lord made away
a murderer they save
the Prince of Life they slay.
Yet cheerful He to suffering goes
that He His foes from thence might free.
In life no house no home
my Lord on earth might have
in death no friendly tomb
but what a stranger gave.
What might I say ? Heaven was His home                                                                                         but mine the tomb wherein He lay.
Here might I stay and sing
no story so divine
never was love dear King
never was grief like Thine !
This is my friend in whose sweet praise
I all my days could gladly spend.
---
Ashing:
(only for those who pop into church)
"remember you are dust and to dust you shall return;                             
turn away from sin and be faithful to Christ"    
---
Prayers:                                                                                                                            
From the cowardice that dare not face new truth                                                                       From the laziness that is contented with half truth
From the arrogance that thinks it knows all truth
Good Lord deliver us.
(Kenyan prayer)
Lord God
in this world where goodness and evil
continue to clash with each other
instil in us and in all your people
discernment to see what is right
faith to believe what is right
and courage to do what is right.
Keep us aware of the subtlety of sin
and preserve us body mind and soul
through the power of your Holy Spirit.
…. we pray in the stillness….
Our Father who art in heaven hallowed be thy name
thy kingdom come thy will be done on earth as it is in heaven.
Give us this day our daily bread.
And forgive us our trespasses
as we forgive those who trespass against us.
And lead us not into temptation but deliver us from evil.
= and as we are reminded this day of our own mortality
we remember or pray for the souls of the now two million
whose lives have been extinguished by Covid-19 =
For thine is the kingdom, the power and the glory for ever and ever. Amen.
---
An Invocation for Lent:
Into a dark world
a snowdrop comes
a blessing
of hope and peace
carrying within it
a green heart
symbol of God's renewing love
Come to inhabit our darkness
Lord Christ
for dark and light
are alike to you
May nature's white candles of hope
remind us of your birth
and lighten our journey
through Lent and beyond
---
Blessing:
Christ give you grace to grow in holiness, to deny yourselves,
take up your cross and follow him and
the blessing of God almighty the Father the Son and the Holy Spirit be upon you upon those whom you love and all those who need our prayers. Amen.