Welcome! Here you will find each day:
the Advent Wreath taking us through the weeks
a Bible Reading or Poem
music
a Children's Story
a picture for contemplation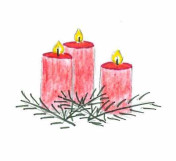 ---
A 'Grace' for meals during Advent:
We thank you ever-present God, maker of heaven and earth, for the food and shelter of this home, for the hope you give us and the light you bring us. Amen.
---