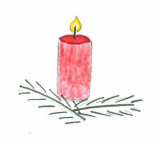 The clergy, church wardens and council are planning what we can offer to the St. Catherine's family this Advent and Christmas – 2021. Those services marked* are particularly focused around our young people.
Due to the continued need to abide by Corona restrictions, numbers in church at all services will be limited. Advanced registration is essential so we can balance numbers and ensure that everyone is given the opportunity to attend at least two services of their choice over this period. In order to help us keep those who have signed up safe – please do not just turn up at a service if you haven't booked in and had your place confirmed.
Masks must be worn at all services.
2G rules will apply to the Traditional Lessons and Carols in the Leonhardskirche.
Further decisions on 2G/3G – congregational singing etc. will be taken depending on numbers and current regulations
We hope you will be able to enjoy our online resources and zoom options for those Sundays where you are asked to make space for others in church.
Thank you for your understanding.

Saturday 27th November @17:00 – Candlelit Advent Service
Sunday 5th December @12:00 St Nicholas and his big feet with Eucharist*
Sunday 12th December @17:00 Traditional Service of Lessons and Carols in the Leonhardskirche
Sunday 19th December @17:00 Carol Service led by our young people*
Saturday 25th December @10:00 Christmas Morning Eucharist