Confirmation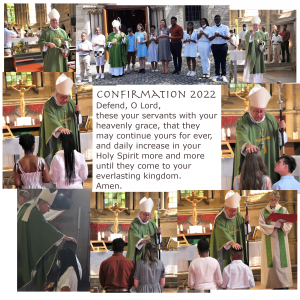 Confirmation is carried out by a visiting bishop and is a super joyful experience for everyone – candidates, their families and the St Catherine's family too. This is an affirmation of personal faith, rather than received or inherited faith. Essentially these are are a restating of the baptism promises. The right time for Confirmation can be at any age or stage in life.
More information about confirmation can be found here.
St Catherine's will over time offer different options for preparation for confirmation or better exploration of the Christian faith.
We include in this sweep any who would like to be formally received into the Anglican Communion / Church of England from another tradition, though membership at St Catherine's requires no such formality.
To express an interest, contact the Chaplain chaplain@stcatherines-stuttgart.de
---
Marriage Blessings
Marriage in Church celebrates a life-long union and the God-given love that is the basis of such a union. St Catherine's welcomes couples who would like to share their special day with us. To plan your wedding celebrations contact the Chaplain Rt. Revd Antonio Ablon chaplain@stcatherines-stuttgart.de
Couples should be aware that Church weddings have no legal status in Germany and a civil ceremony will also have to be arranged at the Standesamt. Mostly it will make sense to do this first and then come to Church for a service.
For more details of the legal aspects of getting married in Germany please contact your local Standesamt.

---
Funerals
A funeral is often the deceased's final visit to church in the company of family and friends. St Catherine's is there for any who have links with us past or present – at joyous times as well as sad.
To discuss funeral arrangements please contact the Chaplain chaplain@stcatherines-stuttgart.de
Fees
Both weddings and funerals incur costs – please ask for details and a breakdown when you make contact.
Other offices
Other pastoral offers are there for your needs including – confession, Holy Unction, hospital visits, home communion, house blessings – please just ask or get a family member, friend or neighbour to ask.
Prayers
We are very happy to mark the anniversaries
of Baptisms
of Weddings
of Bereavements
in our weekly prayers. Please let the Chaplain know if you would like to be prayed for.