An old lady in need of repairs
Over ten years have passed since the relocation and installation of a centenarian English Pipe Organ at St Catherine's. Regular use in services mean that repairs need to be carried out and, as everyone knows, repairs cost money. More details can be found here and, if you can, please give generously below:
Kontoinhaber : Friends of the English Church e.V.
IBAN:
DE39 6009 0100 0587 2530 02
Bank: Volksbank StuttgartPlease clearly label your donation Organ Fund.If you put your address on the transfer form, we'll also send you a donations certificate.
Thank you for giving generously.
If you don't have a German bank account you can donate to St. Catherine's via PayPal

Please select Organ Fund as the area of ministry you wish to support. If this field is left blank donations will go to support the general work of St. Catherine's.
---
A Little Music
---
A Little History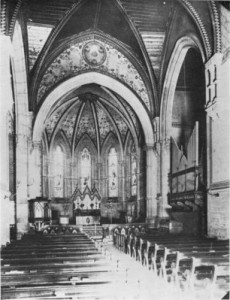 Although Anglicans have been part of the Stuttgart community since 1844, it was not until 1867 that an English Church was built. Dedicated to St. Catherine of Alexandria, it was furnished with the finest trappings. A grand English pipe organ filled the north transept.
Stone carvings ornamented the walls and stained glass filled the windows until November 1944 when, along with 80% of Stuttgart's city centre, the church was destroyed by Allied bombers targeting Stuttgart's industrial zone. Only the wall behind the altar remained standing.
The rubble was sold by the Church of England Society to whom it belonged, to the Old Catholic denomination of Stuttgart, which set about rebuilding it using as many of the original stones and carvings as possible. The pipe organ, however, could not be saved. Not even the north transept remains. The church is still, however, very English in its style and architecture.
---
A "new" Organ
A fund-raising project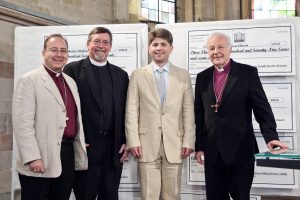 The smaller, simpler church made do with a poor electric organ, which in 2010 finally had had to be thrown out.
Through the grace of God, and the persistence of a former organist Andy Dewar, an antique (1903) tracker action pipe organ was found in storage [Gill, Cardiff Organ Works] and purchased for use in St. Catherine's Church.
A fund-raising project commenced, concerts, art exhibitions, bake sales and more were held and the necessary money was raised to dismantle and transport the organ to Germany.
Installation and dedication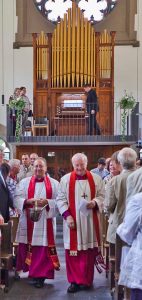 Not only did the organ have to be transported to Stuttgart and repaired. It was also necessary to build a proper and attractive organ loft under the rose window. In May 2011 the organ arrived was pieced together and installed .

On Pentecost Sunday 2011 The Rt. Rev'd. David Hamid, Suffragan of the Diocese in Europe, and the Rt. Rev'd. Joachim Vobbe, retired Bishop of the Old Catholic Church's Diocese of Germany officiated at its dedication.
You can read all about the service here http://eurobishop.blogspot.com/2011/06/joyful-celebration-in-stuttgart-to.html
Thank you to those who supported our Organ Concert in October 2022.
---