Our Worshipping life is now fixed in a regular pattern.
2nd Saturday @ 17: 00 – Evensong
3rd, 5th Sunday @10:00 – Eucharist
(usually on 5th Sunday a joint bilingual service with the Old Catholic congregation)
This is subject to certain variation depending on availability of the building and other factors, but is in principle is fixed until the next Chaplain is settled in post.
We are once again offering Communion in both forms, for those who wish to drink from the common cup.
Intincture (dipping) is not permitted in the Diocese in Europe.

OUTDOORS: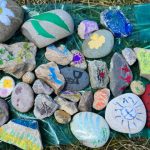 OutdoorChurch started in 2019 and took on real significance during the pandemic when it was at times our only opportunity to sing together.
See what we got up to at our 2022 Outdoor Church Services
Dates for 2023 are yet to be announced.
---