A series of sessions for learning and discerning.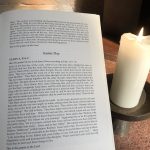 All sessions take place in the Anglican Centre on a Sunday morning 10:00-11:30. There will be coffee and croissants (or equivalent) as well as discussion and learning.
Sessions require registration by the Friday before to allow materials to be prepared. Sign up by mailing sundays10@stcatherines-stuttgart.de
---
Our next meeting will be on Sunday 5th November @10:00 in the Anglican Centre.
The topic will be "Which biblical character do you most identify with?"
We are then planning to read the book "Twenty questions Jesus asked and how they speak to us today" together.
If you would like a copy ordering please e-mail sundays10@stcatherines-stuttgart.de by 9th October.
---
Previous sessions have included:
Summer Reading Discussion – what have we read from the Chaplaincy Library?
Anglican Liturgy and Worship
How do we hear God … ?
… through prayer
… through culture
… in creation
… through experience and conscience
These sessions were based on podcasts from the LLF resource.
---
If you would prefer an online learning opportunity then please take up the Diocesan invitation to join their Lay learning course – Wallking together in Faith