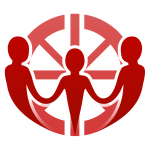 Refugee Ministry
as the diaconal wing of St Catherine's Ministry.
This project has been awarded a two year grant by USPG, enabling someone with a refugee background to work, on a MiniJob basis, to help support the key areas of this already functioning ministry and work with the Church Council to establish events to meet emerging needs. With likely changes in leadership we are entering a transitional phase and commit all changes to your prayers.
The project is now 9 months into the 2 years 'financially supported' phase and plans have been made for the next phase:
A series of invitations are being sent out –
– to young mums who cannot because of child care engage in language courses but can get weekly support from us – this is well established but more mums can be invited
– to grandmas from the refugee community are being invited to join the monthly women's group – a marvellous integration opportunity
– professionals who don't have time because of work commitments, to develop their language skills further invited here weekly to gather with native german speakers
– following the 'summer kurdish club' for children, this will continue weekly but change focus to offer support for school and catch up school work support
All of these will be under review – where are the real needs  perhaps not yet seen and who might people or churches or agencies engaged in work like ours to partner with.
Depending what the responses are like we will need more volunteers from our Church Family to work alongside the Chaplain and Refugee Volunteer team. Meanwhile please continue to support this ministry in prayer.
These strands continue as follows:
How you can help
please pray for our team of volunteers, for the members of our church who support this work through the refugee project sub committee (Alison, Jackie, Solomon, Andrew) and most importantly pray for all who 'come through our doors' that they may feel a welcome and an acceptance here in our midst
please volunteer – either occasionally or regularly (though some online safeguarding training will be required) initial inquiry to the Chaplain as she has the best overview
---
Ecumenical support for Refugees in Stuttgart