2020 Update
the Children and young people of St Catherine's have since lockdown now had three opportunities for participating in live worship. there were the two OutdoorChurch events in July (with Eucharist) and in September (with Baptism and Starting School) and most recently Harvest celebration in church.
Second-wave C-19 numbers and restrictions permitting we will next offer something on Sunday 13.12.@16.00 – SaveTheDate just in case.
HomeChurch resources for children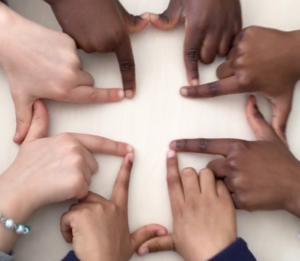 Corona Virus Prevention measures mean we are unable to offer any face to face children's activities at present.
Whilst we are unable to meet in person we will try and provide a children's resource linked to the liturgy with our home church resources.
Here are a few more things for children to help them continue their journey of faith from home.
For more details contact children@stcatherines-stuttgart.de
---
Harvest
A story for Harvest
Bible Stories for Children
Pentecost
Pentecost Wreath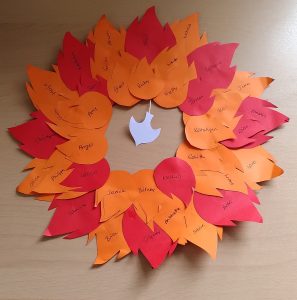 Instructions for the children to make their own wreath in preparation for Pentecost.
---
The Lord's Prayer
---
Gallery of past Children's Activities
More photos from Jim Palik of children at St. Catherine's.
---
"Pancake Sunday" 2020
---
Christmas 2019
---
Nativity Play 2018
In 2018 we took our nativity play up an notch and held rehearsals – it paid off – the children showed off their natural acting (and dancing) talents.
Our stained glass windows of Saints.
---