We have been back at church on a weekly basis for months beyond counting now
and we miss our friends
some of you we have caught glimpses of
others not yet
Questions please to help us plan for your welcome / welcome back
– what might help you and your children feel safe at church?
– what has changed for you – children older / online options / changing habits / ??
– what changes might enable you to return e.g. half the family comes this week / the rest a different week…??
Our regular pattern is now 12:00 Sunday Eucharist / Service of the Word
and on the last full weekend of the month 17:00 Saturday Evensong Services
– families have joined us for all these services on occasion.
In the summer months we will also have our OutdoorChurch services – here are some dates for you to put in diaries
Save the Date – Outdoor Church 2022
22nd May – @ Rosenstein Park for Rogation
31st July – @ Schloß Solitude
28th August – @ Killesberg followed by picnic and
possibly games
25th September – @ Schlossgarten for Harvest
(all on Sundays all at 11.00)
with Easter Blessings,
the Young People's Team
Young People led Carol Service 2021
---
HomeChurch resources for children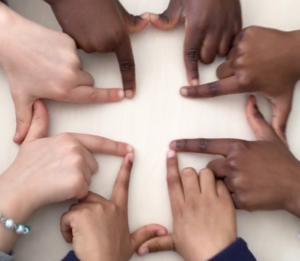 Corona Virus Prevention measures meant we have been unable to offer any face to face children's activities for sometime.
Whilst we were unable to meet in person we tired and provide a children's resource linked to the liturgy with our home church resources.
Here are a few some pictures of what the children got up to at home.
---
Pentecost
Pentecost Wreath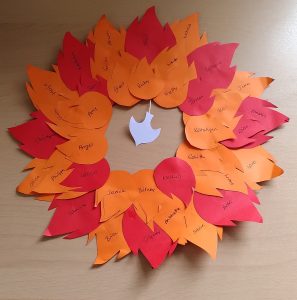 Instructions for the children to make their own wreath in preparation for Pentecost.
---
"Pancake Sunday" 2020
---
Christmas 2019
Gallery of past Children's Activities
More photos from Jim Palik of children at St. Catherine's.
---
Nativity Play 2018
In 2018 we took our nativity play up an notch and held rehearsals – it paid off – the children showed off their natural acting (and dancing) talents.
Our stained glass windows of Saints.
---