HomeChurch resources for children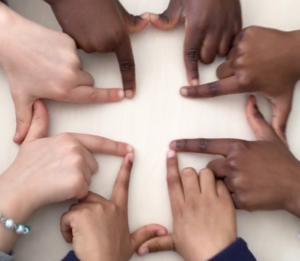 Corona Virus Prevention measures mean we are unable to offer any face to face children's activities at present.
Whilst we are unable to meet in person we will try and provide a children's resource linked to the liturgy with our home church resources.
Here are a few more things for children to help them continue their journey of faith from home.
For more details contact children@stcatherines-stuttgart.de
---
Welcome to St Catherine's SummerHomeSundaySchool for the young and not so young to join in with in Stuttgart and beyond…
In the audio you will find;
a Bible Story
the question to reflect and chat about
an activity based on it
---
The Woodland Gospels: An audio story for children to listen to during the summer holidays, be it on a long car journey or lying on the sofa or in the garden (with headphones)
---
Exploring God's Amazing World
As part of the preparation for the prayers for our first Outdoor Church on 5th July we challenged the children to find something in the natural world around them for each letter of St. Catherine's – they can record it in drawing, collage, writing, audio or video, or write a prayer or a song or take a photo and share it with us. You can download the words and worsheet here – Exploring God's Amazing World  Send your creations to webmaster@stcatherines-stuttgart.de
If you would like an example to give you some ideas, we have put together one here, but remember you can use any medium you like:

---
A story -the three butterflies, an Albanian folktale
---
Pentecost
Pentecost Wreath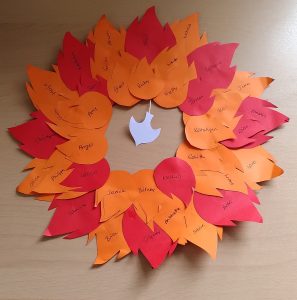 Instructions for the children to make their own wreath in preparation for Pentecost.
---
The Lord's Prayer
---
Gallery of past Children's Activities
More photos from Jim Palik of children at St. Catherine's.
---
"Pancake Sunday" 2020
---
Christmas 2019
---
Nativity Play 2018
In 2018 we took our nativity play up an notch and held rehearsals – it paid off – the children showed off their natural acting (and dancing) talents.
Our stained glass windows of Saints.
---