Summer 2021
Take time to enjoy different parts of the resource to fit in with your summer plans and your household.
Lent 2021
During Lent there was a 6 week project on parables for children, with audio recordings to listen to and a link to extension material which will be age specific (ish)
Background:
Under 10 a parable is a special kind of story that Jesus used to tell people about God
10-14  a parable is a way of 'painting a picture using words'
-and using this way of teaching people about God it helps Jesus' listeners (and readers) to understand better because we all have an imagination
– it is sometimes better therefore to read a parable slowly so that the 'picture-in-words' is allowed to take shape in our minds / our imaginations
– also once our minds have imagined the picture / the scene that Jesus is painting with words, it is easier for us to imagine ourselves IN that place or that event or that story
14+ a parable is a literary genre used by Jesus to teach truths about God and the Kingdom of God that are conceptual
– a parable builds a bridge between a concept / an idea and real or concrete events and places and people and situations and this bridge gives us access to these conceptual ideas and truths
– a parable has some elements in common with symbols and allegories and although the overlap is not total, it helps us better to understand parables recognising these similarities
– what counts in a parable is the content (what is Jesus trying to teach here) not the packaging (the details of the story)
---
2020 Update
The children and young people of St Catherine's have, since the first lockdown, now had three opportunities for participating in live worship. there were the two OutdoorChurch events in July (with Eucharist) and in September (with Baptism and Starting School) and most recently Harvest celebration in church. Increased restrictions sadly meant our Christmas live event could not take place.
---
HomeChurch resources for children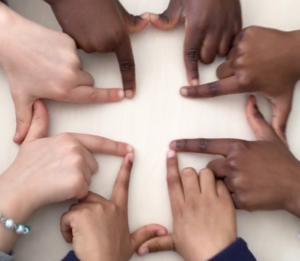 Corona Virus Prevention measures mean we are unable to offer any face to face children's activities at present.
Whilst we are unable to meet in person we will try and provide a children's resource linked to the liturgy with our home church resources.
Here are a few more things for children to help them continue their journey of faith from home.
For more details contact children@stcatherines-stuttgart.de
---
Pentecost
Pentecost Wreath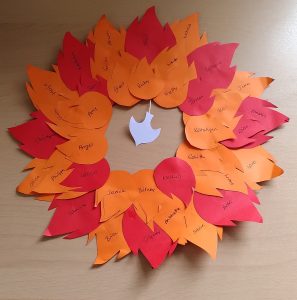 Instructions for the children to make their own wreath in preparation for Pentecost.
---
The Lord's Prayer
---
Gallery of past Children's Activities
More photos from Jim Palik of children at St. Catherine's.
---
"Pancake Sunday" 2020
---
Christmas 2019
---
Nativity Play 2018
In 2018 we took our nativity play up an notch and held rehearsals – it paid off – the children showed off their natural acting (and dancing) talents.
Our stained glass windows of Saints.
---