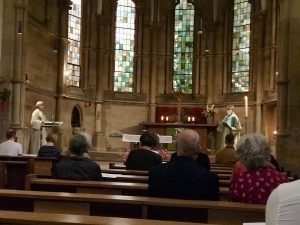 We now recognise that "being back to normal" is not possible. Simply too much time has passed, too much has changed in that time and most significantly perhaps, too much is still unknown and uncertain. We have however, as a community, since mid-May, returned to collective worship: through Return2Church services at St. Catherine's and one OutdoorChurch to date.
HomeChurch online resources continue to be available and have been built upon to offer those who are more comfortable with staying in the safety of their own homes more variety. We began by using AnteCommunion as our main R2C liturgy. We are now in the exciting position of being able to offer a broader range of liturgies on saturday evenings at R2C running parallel with the broader provision online. These include Evensong, A Shortened Eucharist and An Evening Service of the Word.
The four main safety points to register remain:
Masks are compulsory. There will be NO congregational singing. When our organist is present, there is however , solo hymn singing, often a sung Psalm and also organ music.
Social distancing will be applied in church as anywhere else – so one person per pew (with the exception of a couple / family) and no social interaction is permitted on church premises, which includes the Anglican Centre and the forecourt in front of the church door or indeed during the service.
Hygiene will be stringent. In practice this most importantly means that the whole church will need to be disinfected between services. This in turn means we cannot offer worship at the usual Sunday morning time. It also means that Readings and Intercessions and at times also the Liturgy, will be led from different points around the church.
Registration is required please let Alison wardens@stcatherines-stuttgart.de or Kara chaplain@stcatherines-stuttgart.de know by Friday if you are planning to attend the service on Saturday. Visitors and newcomers are welcome, but you will be asked to leave contact details when you register.
(Also, although of course this is more relevant for me than you = information and communication is legally required on website and at every event. The safety case for holding services includes recording the contact details of everyone who attends in case anyone falls ill and people need to be contacted so they can go into isolation.)
What does all that mean for you as you make decisions about a return to church based worship?
Firstly online worship will remain a feature of what we offer for at least another year, until vaccines are available for all, and possibly permanently given the growing number of you who live a long way from Stuttgart and joined us infrequently are now joining us more often online, as indeed are St Catherine's family from overseas who join us from outside Germany. As our worship is web based it can be enjoyed at any time or on any day.
Take time to consider the risks to you and to those with whom you live.
It should be self-evident that all who have any kind of respiratory problems and any who have had contact with ill / possible ill persons / any who have travelled and should therefore be in any quarantine are NOT to attend church.
There is a process by which you have to book yourself in ahead of time as names and contact details need to be kept (only for 4 weeks until danger passed).
The celebration of the full (bread and wine) Eucharist will have to wait a little longer.
All that said your chaplain and organist will do their very best to offer meaningful and quality worship in church for those who do choose to attend.
Stay safe and stay blessed
Kara