St. Catherine's choir lead the hymns and liturgy, and sing an anthem most Sunday mornings.
The choir rehearses at 10:00 on a Sunday morning in the Anglican Centre. Details of the coming week's music are also circulated to allow members to familiarise themselves with it in advance of Sunday morning.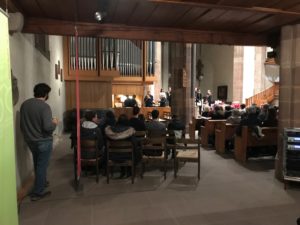 Recent anthems have included: Ronald Perrin's setting of Geoffrey Studdert-Kennedy's poem It is finished!, Simon Lindley's arrangement of Here is joy for every age, Herbert Sumsion's Bb setting of the Bendicite Omnia Opera, Thomas Tallis's If ye love me.
The choir also sings for the annual service of Lessons and Carols.
For more information about the choir please e-mail music@stcatherines-stuttgart.de