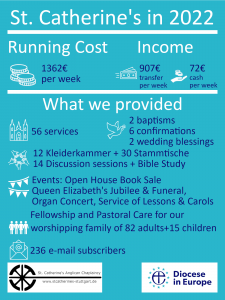 What's the most important thing that St. Catherine's gives to you?
How often do you think about what you give financially in return?
How often do you act on these thoughts?
Regular giving is the basis of good stewardship and sustainability.
St. Catherine's is lucky that most of our income comes from planned giving. However, as you can see, this doesn't cover our costs.
The deficit we are running means our reserves are almost used up.
We raise some money through fund-raising. In the past we have been lucky to receive grants, but this income isn't guaranteed.
Increasing the proportion of our church family who give regularly, will help provide a stable basis for our future.
Please prayerfully consider what financial commitment you can make to the life of St. Catherine's. May your generosity be a blessing to you and to others.
---
Account details for setting up an überweisung
Kontoinhaber: Friends of the English Church e.V.
IBAN: DE39 6009 0100 0587 2530 02
Bank: Volksbank Stuttgart
If you don't have a German bank account you can donate to St. Catherine's via PayPal
---
Annual Accounts are provided each year at the Annual Church Meeting.
2022 accounts are available on request. Please speak to Jackie or e-mail finances@stcatherines-stuttgart.de
If you would like to find out more about giving of time and talents click here.