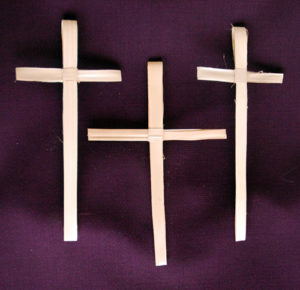 Palm Sunday – 11:15 – St. Catherine's Weather permitting starting outside church with a procession of palms … followed by our usual service of Holy Communion with a dramatic reading of the Passion Gospel and children's Sunday School during the sermon.
Maundy Thursday – 19:00 – Anglican Centre
The Liturgy of the Last Supper with the Footwashing.  Just as Jesus commanded we break bread, drink wine, and remember.  And… on this one night only, we demonstrate our love for one another by taking turns washing one another's feet.
Good Friday.… A Remembrance of the Crucifixion of our Lord – 18:00 in church.
The Easter Vigil…. an ecumenical service in German with a little English…… begins in the Leonhardskirche at 21:00 in the darkness.  As we hear some of the Old Testament lessons which lead us to an understanding of Christ as Messiah, we wait.  In the darkness we process up the street to the Katharinenkirche, where the Holy Fire is lit, the Paschal Candle blessed, and the people receive the light of Christ.  We pour into the church filling it with candle glow.  The Exultet is sung, and the first mass of Easter is celebrated.  Following the service a reception takes place in the Oekumenisaal.  The festivities can go on until after midnight.  If you have never experienced an Easter Vigil, I highly recommend it.
The Festival of Easter... 11:15 – St. Catherine's – with all the trappings of the holiest day of the Christian Year…. Grand music, big flowers, joyous scripture readings, and the chance to open our doors and hearts to the many visitors who will want to worship with us on this special day.
Following the service there will be a bring and share cake & finger food reception – bring something simple to share together in the Gemeindesaal.