This weekend – a choice
Saturday 15th October – 17:00 – Evensong with focus on 'Healing' as a theme.
Provision for Tweens during the service.
Sunday 16th October – 09:00 – Said Eucharist in Anglican Centre
This is a short half hour service for those who would like to try a simple, early Sunday service.
We will start punctually at 9.
There will not be coffee after this service. You are requested to "go in peace to love and serve the Lord" – and do it quickly so the Council can start their meeting promptly.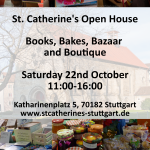 Saturday 22nd October – 11:00-16:00 Open Church fund-raising event with Book Sale

Urgently needed:
Books,mostly fiction please
Produce: marmalades, chutneys, jams, scones, shortbread
Boutique: stylish, modern clothes as well as jewellery and accessories
Autumn/Advent/Thanksgiving/Christmas/Craft stall: everything welcome incl Fleamarket items
Cakes and biscuits and light lunch
for the Café in the Anglican Centre
and buyers, so please share the flier with your friends!
Help us to make this event a success!
For further information and offers of donations please contact
Alison – bazaar@stcatherines-stuttgart.de
Sunday 23rd October – 12:00 – Eucharist – Bible Sunday
Sunday 30th October – 10:00 – Bi-Lingual Eucharist
Joint Altkatholisch/Anglican service followed by coffee.
Coming up in November: Sundays@10
---
Collection Plates: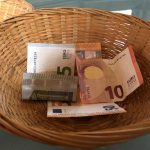 St. Catherine's is a self-supporting church with a negative budget. If you are new to St. Catherine's or have not yet set up a regular bank transfer, please give what you can online via our virtual collection plate.
We have a Retiring Collection at services for any visitors and for those who prefer to 'give' in cash.

---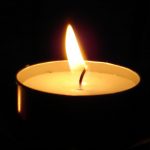 Prayers
-we pray for the chaplaincy council as they meet this Sunday
-we pray for all who need Healing – including communities, churches, nations, marriages, friendships….. 
-we pray for bereavement anniversaries this month
-we pray for our ministry to and among refugees from currently 3 different continents
-we pray for the anxious and the fearful
-we pray that we might each have the courage to make the lifestyle changes that would help heal our planet
-we pray for peace in our world, in our homes, in our hearts
Lord have mercy = Christ have mercy = Lord have mercy