InChurch – Sunday @12.00 – 13.00 Gathering4Worship – a Short Eucharist (optional are refreshments at Anglican Centre from 11.30 – please bring your own) – Sign up here
AtHome – Sunday anytime Online – liturgies and bible readings and dip into our choir and sermon archives
OnZoom – Sunday @21.00 – 21.30 Compline – short prayerful service to conclude the weekend – code from chaplain@stcatherines-stuttgart.de
---
Advance Notice…

Gathering4Worship – a return to Sundays in church

Sign up for Sunday 15th August / Sunday 22nd August
---
Picnic "mit Impuls"
Sunday 29th August – 11:30 onwards – Killesberg – meet at the columns (by the St. Catherine's logo on the map)
A chance to meet in the fresh air, catch up with old friends and make new ones. Bring your own picnic and family blanket.
There will be an activity to join in with but no formal service.
---
St Catherine's Book Sale – Summer Restock
BOOK DONATIONS NEEDED:
English language and suitable for sale at a church event
Please make an appointment for a drop off by contacting:
restock@stcatherines-stuttgart.de
---
In August it would be truly wonderful if anyone and everyone who has a bit of time to spare could gather and give a bit of love to our Anglican Centre. A number of us have kept things going but it could do with some cleaning and freshening up and a new lease of life and love – you get the idea. Volunteers please email chaplain@stcatherines-stuttgart.de with availability.
---
Refugee Programme – Summer Restock
CLOTHING DONATIONS NEEDED:
Children's & babies' & Men's + Shoes – all sizes &types
Please make an appointment for a drop off by contacting:
restock@stcatherines-stuttgart.de
---
This week as every week…
Bible Study is taking its summer break and will resume in August (watch this space)
---
---
Prayer Post
for all who battle with long term medical issues
for those anxious or fearful of the pandemic as well as the vaccines and variants
for those travelling for work or leisure
for August baptism anniversaries and birthdays
---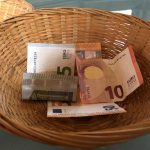 If you have the means to do so, please give what you would have put in the weekly collection plate via bank transfer.
Kontoinhaber : Friends of the English Church e.V.
IBAN: DE39 6009 0100 0587 2530 02
Bank: Volksbank Stuttgart
For regular giving to St. Catherine's setting up a "Dauerauftrag", if you can, means you don't have to remember to do this at the end of every service and helps support the on-going fixed costs of St. Catherine's.
Thank you supporting our church.
Yours Lord is the greatness, the splendour and the majesty.
Everything we have comes from you and of your own do we give you.