Sunday 20th August – Eucharist @10:00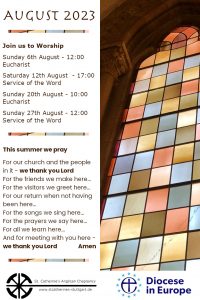 Followed by coffee & fellowship in the Anglican Centre with a chance to chat to visitors.
Kleiderkammer Donations
Have a summer clear out and bring your good quality, used clothes, especially children's clothes, for our Kleiderkammer on Sunday 27th August.
Kleiderkammer will be taking its summer break in September – so act now 🙂
Thank you for your support.


---
Baptism

There will be a baptism taking place as part of the service on Sunday 3rd September. If you are also interested in baptism for yourself or your child(ren) please make contact with us as soon as possible. enquiries@stcatherines-stuttgart.de
---
Prayers
we pray for our Chaplain-designate and those who will see us through the interregnum.


we pray for those leading our services through the summer months
we pray for those who visit us over the summer holidays – whether as one off visitors or those looking for a church in a new town of residence
we pray for those affected by wild fire, drought and flood
---


Summer Reading Discussion Group – Sunday 3rd September @10:00
– sign up by e-mailing sundays10@stcatherines-stuttgart.de
Licensing of Chaplain – Sunday 24th September @10:00 Note Change of Time
Booksale – Saturday 14th October
Diocesan Conference: God's Kaleidoscope – the International Call to Racial Justice, 8th-11th November in Freiburg im Breisgau
---
Interregnum
During the interregnum/vacancy your first point of contact for all questions relating to
St. Catherine's are the Church Wardens
contact@stcatherines-stuttgart.de – WhatsApp – 0163 222 8997
(messages will be read on a once a day basis)