Sunday 3rd September
We welcome Zikorammachukwu, her parents and godparents as she is presented for baptism.
We also welcome our Archdeacon Leslie who will preside at the service.
Please join us for coffee in the Anglican Centre afterwards.
Summer Reading Group – this Sunday @10:00
If you took a book from the library to read and haven't yet signed up for the discussion group please do let us know you are planning to join us sundays10@stcatherines-stuttgart.de
---
Preparing for new Chaplain
Our new Chaplain, the Rt. Revd Antonio Ablon, will be licensed on Sun. 24th September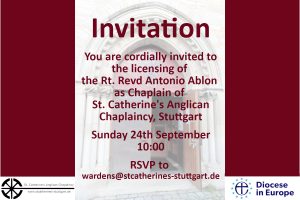 Volunteers are sought to help with the reception:
– before the service: to butter Bretzels, to help set up
– after service: to serve Sekt / Orange
– after the reception: to help clear away
Please contact Jackie or e-mail reception@stcatherines-stuttgart.de
---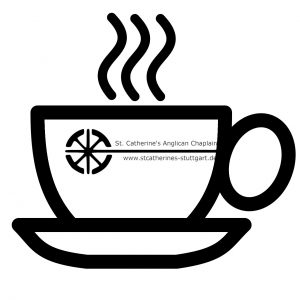 Post Service Coffee and Fellowship
Many thanks to Sandie for volunteering to take over the rota of those preparing, serving and clearing up after our post-service coffee/tea and fellowship times.
We are looking to expand our team of volunteers in this area – if you would like to join up please e-mail coffee@stcatherines-stuttgart.de
Dates where help is needed:
– Sunday 10th September after 12:00 service
– Sunday 17th September after 10:00 service.
---
For our prayers: we pray for…
those who have birthdays and baptism anniversaries in September
we pray for Zikorammachukwu as she is welcomed into the fellowship of faith this Sunday
we pray for our new Chaplain as he prepares for his move to Stuttgart
we pray for all those pupils, teachers and support staff starting the new school year, especially those starting at new schools
we pray for those working in agriculture at harvest time. Those celebrating God's blessings and those facing famine and loss of livelihood.