***Change of Schedule***
There will be no service on Saturday at 17:00.
This Sunday – @12:00 Eucharist
possibly followed by "Coffee" in the Anglican Centre and a chance to borrow a book from the Chaplaincy Library…
Sundays@10 Summer Reading Discussion
Borrow a book from our new Chaplaincy Library to read over the summer and join us on Sunday 3rd September @10am to share what we have read, what inspired us, what questions we were left with…
Would you recommend your book?
For more details contact sundays10@stcatherines-stuttgart.de
---
Refugee Project
For several years now St. Catherine's has supported refugees in the local community. Current projects involve a weekly Stammtisch for refugees and others to practice their German and a monthly Kleiderkammer. On the 4th Sunday of the month, after church, at 14:00 clothes and small household items are put out for refugees to select. We are very lucky to have two excellent and dedicated helpers, Salam and Shukri, who organise the Kleiderkammer – collecting clothes, notifying the refugees of the date, putting out all the items and organising helpers. It is a project they cherish and they are very keen to continue. We urgently need donations of clothing for the Kleiderkammer and to increase our pool of volunteers from St. Catherine's. Clothing can be dropped off at the Anglican Centre before or after church or on Fridays from  17:30 when the Stammtisch takes place.
Anyone interested in volunteering with the project should speak to Alison. Volunteers will be expected to complete Safe Guarding requirements set out by the Diocese in Europe.
Thank you for your support in keeping this project running.
Alison Seyerle, Warden
E-mail warden@stcatherines-stuttgart.de for more information.


---
Prayers


we pray for our new Chaplain and those who will see us through the interregnum.
we give thanks for our musicians, welcome team, sacristan and all those who serve, we pray for the Wardens and Council as they prepare for their next meeting
we pray for areas of unrest and those who resort to destructive actions
---
The Anglican World beyond Stuttgart
– The next meeting of the Council of Anglican and Episcopal Churches in Germany is "educational" and open to all! It is from 7 – 9 September 2023 in Frankfurt and the theme is "Defending Democracy: the role of the churches in the democratic process." Find out more
– Diocesan Conference: God's Kaleidoscope – the International Call to Racial Justice, 8th-11th November in Freiburg im Breisgau Request more information
– Explore the renewed Diocesan Website … https://www.europe.anglican.org/
---
Collection Plates: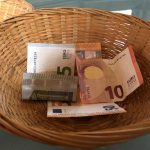 St. Catherine's is a self-financing church which depends entirely upon the donations of those who worship with us and others who generously support us.
If you are new to St. Catherine's or have not yet set up a regular bank transfer, please give what you can online via our virtual collection plate.
We have resumed taking a collection during services for any visitors and for those who prefer to 'give' in cash.
---
Interregnum
During the interregnum/vacancy your first point of contact for all questions relating to
St. Catherine's are the Church Wardens
contact@stcatherines-stuttgart.de – WhatsApp – 0163 222 8997
(messages will be read on a once a day basis)