This Sunday: 2nd October – 12:00 – Eucharist with Harvest Hymns
Last chance to bring donations of non-perishable foodstuffs for Schwäbische Tafel. Provision for Tweens during the service. Coffee after the service. (If you enjoy coffee after the services and would like to help this happen in future see Alison's appeal in last week's news)
---
Coming up in October
There is no "business as usual" this October at St. Catherine's, but there is lots to get involved with – follow the links for more information and put the dates in your diary.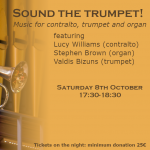 Saturday 8th October – Sound the Trumpet – Concert, in conjunction with the Archdeaconry Synod, featuring our own Stephen Brown and two guest musicians.
Invite your musical friends and neighbours.

Sunday 9th October – 10:00 – Ecumenical Service in conjunction with the Archdeaconry Synod.
Erlöserkirche – Birkenwaldstraße 24, 70191 Stuttgart
President: The Rt Revd Dr David Hamid. Preacher: Stadt-Dekan Søren Schwesig

Saturday 15th October – 17:00 – Evensong with focus on St Luke/ Healing.
Provision for Tweens during the service.
Sunday 16th October – 09:00 – Said Eucharist in Anglican Centre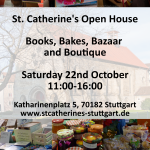 Saturday 22nd October – 11:00-16:00 Open Church fund-raising event with Book Sale
See Alison's appeal for helpers in last week's news and share the flier with your friends.
Sunday 23rd October – 12:00 – Eucharist – Bible Sunday
Sunday 30th October – 10:00 – Bi-Lingual Eucharist
Joint Altkatholisch/Anglican service followed by coffee.
---
Collection Plates: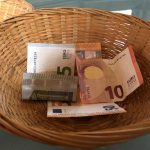 St. Catherine's is a self-supporting church with a negative budget. If you are new to St. Catherine's or have not yet set up a regular bank transfer, please give what you can online via our virtual collection plate.
We have resumed having a Retiring Collection at services for any visitors and for those who prefer to 'give' in cash.

---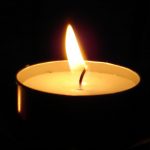 Prayers
we pray for birthdays and baptism anniversaries this month
we pray for bereavement anniversaries this month
we pray for our ministry to and among refugees from currently 3 different continents
we pray for the anxious and the fearful
we pray that we might each have the courage to make the lifestyle changes that would help heal our planet
we pray for peace in our world, in our homes, in our hearts
Lord have mercy = Christ have mercy = Lord have mercy