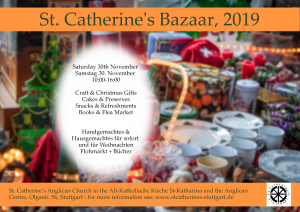 Saturday 30th November – Annual Bazaar
Cakes, biscuits, cookies and other produce needed for sale.
Help needed to set up on Friday evening
Help needed to staff stalls during the day
Help needed to pack away afterwards
Shoppers needed to buy, drink tea and coffee and eat cake!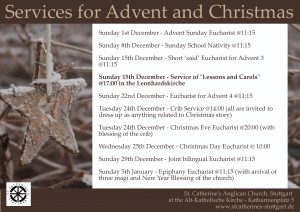 Singers wanted!
Now that we have  an organist, we are once again putting together a scratch choir to lead the singing at our annual Carol Service in the Leonhardskirche, Sunday 15th December at 17:00
If you're not a chorister – lend your voice to the congregation and bring your carol singing friends!
If you enjoy singing and would like to be in the choir, we will have two rehearsals:
Friday 6th December – 18.00 – in the Anglican Centre
Sunday 15th December – 15:00 – in the Leonhardskirche
Please let Kara chaplain@stcatherines-stuttgart.de know if you with to join in, especially if you have sung with us before, but can't make the first rehearsal.
Thank you for lending your voice.
---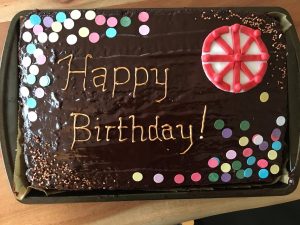 Last Sunday we celebrated our Patronal Festival and the Feast Day of St. Catherine.
Thank you to the baker of our church birthday cake and to our Archdeacon Leslie for being our guest preacher. If you missed his sermon you can catch up here. Sadly there is not catch up on the tasty cake – you will just have to come to the bazaar to buy some…