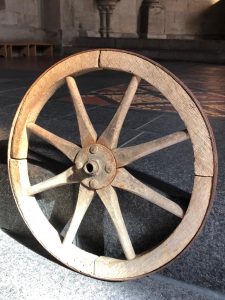 Eighteen months into a pandemic and we are able at
St Catherine's to take stock of where we have been,
the routes we have taken, and where we now find ourselves. Not quite Moses on the mountain overlooking the Promised Land but !
What the pandemic 'robbed' us of was a well established pattern of weekly Sunday Eucharists with our youngsters provided for in a colourful learning programme of their own while being rooted in the whole-church liturgy. Add to that the very popular and significant Coffee Hour. Many of us were in turmoil and bereft, and are still so.
What the pandemic 'gifted' us was an outpouring of creativity and connectivity. A greater variety of liturgies both at home and at church. A much greater shared leading of our worship through Bible Readings and Intercessions being sent in as audio clips. The virtual choir of course and even some liturgical responses. Boundaries between St Catherine's in Stuttgart and St Catherine's elsewhere on the planet became invisible as over Zoom people join in where time zones allow. Boundaries between the generations also became less significant.
What the pandemic did not really affect is that new folk continued to find their way to us and there was enough going on live that meant face to face encounters continued and the welcome was warm.
---
Our Worshipping life is now once again taking shape that seems less fluid, more settled.
AT CHURCH:
Sundays – the first 3 Sundays of the month we will Gather for Worship at 12:00 around a Short Eucharist – with the optional coffee hour coming before the service rather than afterwards.
Saturdays – on the last full weekend of each month we will Return to Church at 17:00 mostly around an Evensong and this too can have the optional coffee hour before the service.
Sundays – monthly ZoomCoffee (10:30 last Sunday of the month) and the weekly Compline (Zoom) 21:00 will remain available. Occassional discussion groups may also be offered. Code from chaplain@stcatherines-stuttgart.de
Sundays and beyond – the menu of liturgies both for morning or evening remain available for people to use and share with others over online platforms and resource using music from Youtube or our Choir archives and the Readings for each Sunday are posted in the notices. Choose from:
Wednesdays –  the Bible Study Group will continue and hopes to go hybrid so some can gather in the Anglican Centre while others join from further away with that group over Zoom. Code from biblestudy@stcatherines-stuttgart.de
OUTDOORS: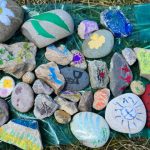 Last year we had 2 such services in the summer and this year we will have managed 4. Next summer and beyond this may settle to 3 – last Sunday of July and August and September.
(Egelsee Eucharist / Killesberg Picnic 'mit Impuls' / Solitude Harvest)
---
Covid continues…
The way we protect one another, regardless of vaccination status, is by abiding within the rules given to us – masks and distancing and hygiene – as well as registering for attending InChurch and OutdoorChurch services.
What remains key is that each and everyone of us needs to Be safe and to Feel safe. So we each make decisions for our household as to what worship is appropriate for us.