The Christian Calendar and Liturgical Year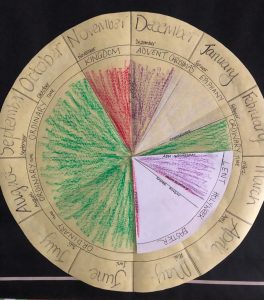 The liturgical year provides a structure for the Church's collective memory, a way of consecrating our human experience of time in the celebration of God's work – in Christ and in human beings made holy through Christ – a work which is both unrepeatably in time and incomprehensively beyond time. It asserts a Christian understanding of time as a context of God's grace, against the world's purely functional reckoning of time. This act of Christian remembering has proved, over time, to have an extraordinary depth. This powerfully creative remembering has deep roots in Jewish tradition. It brings the power of past events freshly into the present.
The rhythm of these seasons also affect those who take part in them. It is one of the primary ways in which Christians learn, and are strengthened in their grasp of the 'story' which shapes their very identity as the chosen people of God. One of the essential features of this educative remembering is that we imagine ourselves, in our act of worship, to experience events in the past as present reality or future hope.
The Christian Calendar takes us annually on two Epic Journeys and then presents us, in addition, some meaningful Seasons and some Ordinary Time. Certainly in the northern hemisphere these journeys accompany the seasons of nature from winter into spring and from spring into summer, with similar themes of darkness and light, growth and new life.
---
The Christian Year begins on Advent Sunday and thus begins also the first Journey:  Advent – Christmas – Epiphany
Advent Sunday is the opening bracket that introduces some of the great themes and Candlemas is the closing bracket concluding this particular journey.
The liturgical colours that accompany us are purple and then white and gold.
We briefly catch our breath before we set off on our second Journey:
Lent – Easter – Pentecost
Ash Wednesday is here the opening bracket that sets the tone and the agenda and Pentecost is the climax as well as the closing bracket as it marks and celebrates the birth of the world-wide church. The liturgical colours that accompany us are purple and then white and gold and finally red.
Trinity Sunday is a standalone statement as well as marking the beginning of Ordinary time.
This ordinary time has some gems for us on the way:
Agricultural delights
Creation season which includes Harvest
Kingdom season where we celebrate and mark and learn from Saints past and present through All Saints and All Souls
There are snippets where we are invited to celebrate the birthday of our own church (for us St Catherine of Alexandria – Sunday nearest to 25.11.)  and a focus on Healing or Peace and room enough for us to sanctify moments in our secular calendar which we wish to mark.
The liturgical colour that accompanies us is mostly green.
While the Ordinary Time is interesting and instructive and even important perhaps locally, the two Epic Journeys have a different dynamic. They function not unlike music. There is phrasing. There are the dominants and the nuances. Both journeys have significant periods of Reflection (purple) which contract with times of Celebration (white / gold). Both function personally indeed privately and also collectively.
More about Anglicanism