Scratch Choir
On an increasing number of occasions we have had cause and opportunity to gather a Scratch-Choir. The first in recent history was for the 'Traditional Lessons and Carols' in December 2019 and more recently at the same service in December 2021.
Coming up is a fresh gathering to sing at the Katholikentag Evensong on Saturday 27. May 2022 @18:00. Some of these voices may then also linger to accompany our marking of Queen Elizabeth's 70 year reign at St Catherine's on Saturday 04. June 2022 @17:00 – a 'Hymns and Pimms' event, and perhaps even the Confirmation service two weeks after that !
The great joy of having a Scratch Choir is that there are always surprises and some are smaller, others larger, some more, some less experienced. All evoke gratitude for gifts offered in the worship and service of God.
Virtual choir
Due to the suspension of all public worship in March 2020, our Easter celebrations at St. Catherine's took on a radically different form from those anticipated at the start of Lent. But the online nature of our worship in Easter Season meant that we have had choristers join us from far and wide and the music they made was recorded for posterity. Over the months they have continued to put their God given talents are our disposal and have produced some wonderful music to accompany our online worship. You can enjoy some of it here. Many thanks to all those who have been involved: Becka Swain-Ward, Chris Trenholme, Jessica Joplin,  Kristina James, Laura Bruhn Lowry, Lizzie Ridsdale,, Luci De Nordwall Cornish, Stephen Brown , Anja Louise Hübel, Marissa White, Mhackies Fermin, Nancy Wood, Peter Rinkefeil , Richard Pryor III, Robert Crowe, Susan Kirby, Suzanne Barraclough, Tim Burleigh, Ursula Wolfangel-Hoppmann and William Gaskins
You can relisten to a selection of the recordings here.
Christmas 2020
'Where children pure and happy pray to the blessèd Child,
Where misery cries out to Thee, Son of the mother mild;
Where charity stands watching and faith holds wide the door
The dark night wakes, the glory breaks, and Christmas comes once more.'
Choral Evensong on Christmas Eve at Leeds Parish Church used to be a refreshingly austere service at which the sole Christmas carol was O Little Town Of Bethlehem. This would be the one occasion of the year when we'd sing the verse printed above, which is otherwise almost invariably omitted.
It was always one of the absolute highlights of my year.
O Little Town of Bethlehem is sung here by the Virtual Choir of St. Catherine's Stuttgart, featuring Anja Louise Hübel, Jess Joplin, Emma Neve, Lizzie Risdale, Nancy Wood, Becka Swain-Ward, Hannah Swain Ward, Suzanne Su P Barraclough, Robert Crowe, Richard Pryor III, Peter Rinkefeil and Tim Burleigh.
The bell you hear is the bell traditionally rung in our family to summon everyone to the Christmas tree on Christmas Eve once the candles have been lit.
Wishing all a Peaceful and Blessed Christmas.
Stephen Brown (Organist)
Many thanks as ever to our singers, who this week are Anja Louise Hübel, Jessica Joplin, Emma Neve, Becka Swain-Ward, Hannah Swain-Ward, Lizzie Ridsdale, Suzanne Barraclough, Robert Crowe, Richard Pryor III, Peter Rinkefeil and Tim Burleigh and our organist Stephen Brown.
Easter 2020
With grateful thanks to the members of the Friends of St. Catherine's Stuttgart Virtual Choir, who are as follows:
Easter Day:
Sopranos: Anja Louise Hübel, Ursula Wolfangel-Hoppmann
Altos; Robert Crowe, Julia Lerner,
Tenors; Peter Rinkefeil, Yotin Tiewtrakul, Giles Harrison
Basses; Tim Burleigh, Paul Dewhurst, Stephen Brown
Organist: Stephen Brown
Scratch choir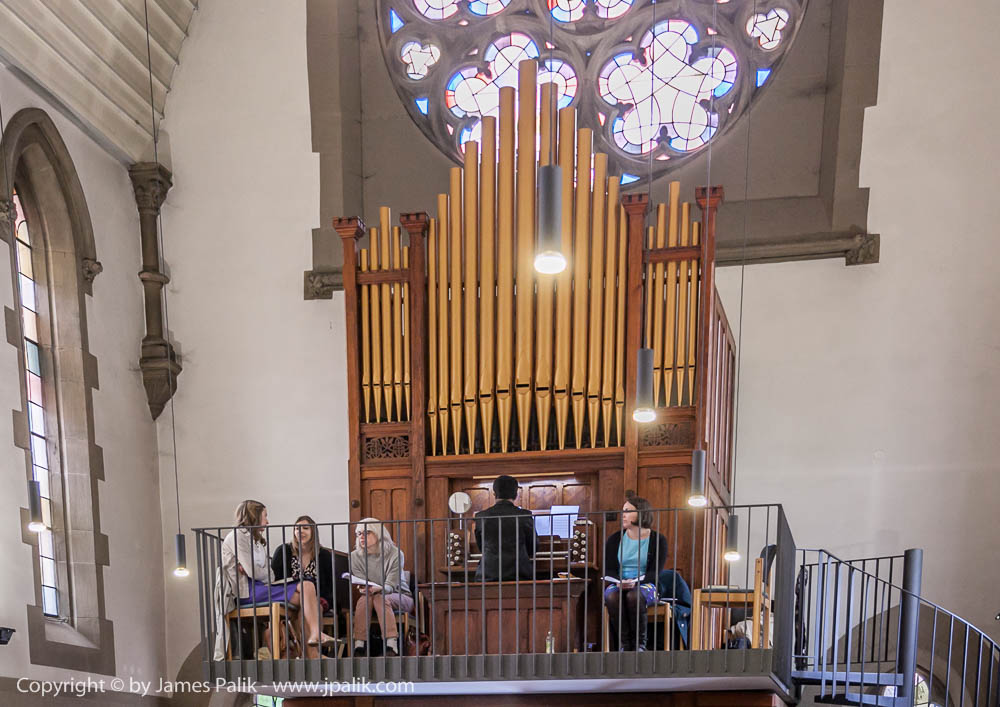 A scratch choir sings for the annual service of
Lessons and Carols.
On occasion we have a soloists who help lead the liturgy and worship on Sunday mornings.  Visitors or newcomers who are interested in singing with us please make yourselves known and join in.
For more information about the choir please e-mail music@stcatherines-stuttgart.de