InChurch – Sunday @12.00 – 13.00 'Gathering4Worship' – a Short Eucharist / Ante-Communion (optional are refreshments outside our Anglican Centre from 11.30 – please bring your own) – Registration required – Sign up here
AtHome – Sunday anytime Online –
Bible Readings this weekend Creation5:
Job 1.1 2.1-10 Psalm 26 Hebrews 1.1-4, 2.5-12 Mark 10.2-16
There are liturgies to choose from and our choir archive to dip into here.
OnZoom – Sunday @21.00 – 21.30 'Compline' is taking a short break and will hopefully resume on 17th October.
OnZoom – Wednesday @19.30-2015  Bible Study Group – code from biblestudy@stcatherines-stuttgart.de
---
Photos from our Harvest Outdoor Church
Message from Wolfgang:  "Today I handed in our gifts from the harvest festival at Schloss Solitude at Schwäbische Tafel. The joy there was great. The team there was very grateful for that."
---
Looking ahead…
23rd October – St. Catherine's Open House Fund-raiser – fliers will be available in church on Sunday, please share the image from the website and the post on the St. Catherine's FaceBook account.
Return2Church next on Saturday 30.10. @17.00
ZoomCoffee next on Sunday 31.10. @10.30
---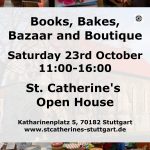 Over the next couple of weeks you may well be approached by a variety of people to help with their section of our Open House Fundraiser -this week Becka posts:
I'm collecting donations of jewellery and accessories for the Open House Fundraiser. Any jewellery and accessories suitable for second-hand sale, I will sanitise/clean/polish everything and can do some minor repairs if needed. Please give any donations to Becka Ward from 10th Ocober onwards at Sunday morning services or email at beads_bags@stcatherines-stuttgart.de
---
and from Christopher last week.
"Them that takes cakes,
Which the Parsee-man bakes
Makes dreadful mistakes."*
But …    Them that bakes cakes
For St Catharine's bakes
Makes … no mistakes whatever, but is sure of doing Good Works!
Gudrun and I are co-ordinating the home produce stall at our mini-bazaar. Dundee cakes are about my mark, and Gudrun can turn her hand to anything, but we need lots of help!
Please, if you can make a cake, jar of jam or chutney (or several) to be sold from the stall: packaged to take home, let us know (email Christopher cakes@stcatherines-stuttgart.de ) if possible about a week beforehand.
If your thing is small scale cakes: scones, muffins, cup-cakes, biscuits – for immediate consumption – the refreshment team would love to have these on the outside refreshment stall. The more the better! Our aim is to have enough to bury the Bohnenviertel.
(and, of course, bring people to the bazaar to eat the cakes; compel them to come in.)
Please consider how best to package your offerings hygienically so that they and we can be kept safe!
Christopher Sloan – cakes@stcatherines-stuttgart.de
*Rudyard Kipling – Just So Stories
---
Prayer Post

We also pray for:
all those countries where elections have taken place recently: among others Germany, Canada, Russia, Hong Kong, Iceland, Ethiopia, the Bahamas. Give wisdom and the will to seek the common good to those who will form governments and for those parties in opposition.
those anxious or fearful of the pandemic as well as the vaccines and variants
for those travelling for work or leisure
for October baptism anniversaries and birthdays