InChurch – Sunday @12.00 – 13.00 'Gathering4Worship' – a Short Eucharist (optional are refreshments outside our Anglican Centre from 11.30 – please bring your own) – Registration required – Sign up here
AtHome – Sunday anytime Online –
Bible Readings this weekend Trinity14: Proverbs22.1-2, 8-9, 22-23 + Psalm125 + James2.1-17 + Mark7.24-37
There are liturgies to choose from and our choir archive to dip into here.
OnZoom – Sunday @20.20-2050  'Sunday20:20' – code from chaplain@stcatherines-stuttgart.de
OnZoom – Sunday @21.00 – 21.30 'Compline' – short prayerful service to conclude the weekend – code from chaplain@stcatherines-stuttgart.de
OnZoom – Wednesday @19.30-2015  Bible Study Group – code from biblestudy@stcatherines-stuttgart.de 
---
Help Needed: Anyone out there have any 'interviewing' experience or would like to have a go – nothing big or heavy honest (contact chaplain for more details please).
---
Advance Notice…
Gathering4Worship – a return to Sundays in church

Sign up for Sundays in September 
Sign up for OutdoorChurch Harvest
---
St Catherine's Book Sale – Summer Restock
BOOK DONATIONS NEEDED:
English language and suitable for sale at a church event
Please make an appointment for a drop off by contacting:
restock@stcatherines-stuttgart.de
---
A BIG Thank You to the family that made new signage for our window notices and the person who spent a day cleaning. It is much improved and there is still the kitchen that needs some attention in case anyone feels left out but not urgent as refreshments are not yet permitted. (Covid rules)
---
Refugee Programme – Summer Restock
CLOTHING DONATIONS NEEDED:
Children's & babies' & Men's + Shoes – all sizes &types
Please make an appointment for a drop off by contacting:
restock@stcatherines-stuttgart.de
As a part of our Refugee project we are hoping to set up a group at the Anglican Centre to help our Refugee children with their German – by story telling, conversation and help with homework . If you have any German children's books your family no long need we would be very glad to have them. Do get in touch and we can arrange delivery or pick up. restock@stcatherines-stuttgart.de
---
Prayer Post
for all places in conflict and those working for peace and justice
for all places with natural disasters and/or climate change distress and those bringing Relief
for those anxious or fearful of the pandemic as well as the vaccines and variants
for those travelling for work or leisure
for September baptism anniversaries and birthdays
---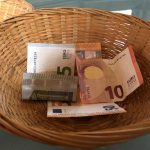 If you have the means to do so, please give what you would have put in the weekly collection plate via bank transfer.
Kontoinhaber : Friends of the English Church e.V.
IBAN: DE39 6009 0100 0587 2530 02
Bank: Volksbank Stuttgart
For regular giving to St. Catherine's setting up a "Dauerauftrag", if you can, means you don't have to remember to do this at the end of every service and helps support the on-going fixed costs of St. Catherine's.
Thank you supporting our church.
Yours Lord is the greatness, the splendour and the majesty.
Everything we have comes from you and of your own do we give you.