Welcome (back) to Ordinary Time

This will be our home for the many weeks from Trinity Sunday through the summer into the beginning of September when the Creation Season starts. There is a lot on offer for every generation. Much of it is suitable for inviting friends and family to join with you via a FaceTime type platform. You are especially welcome if you are new to St Catherine's or new to our Online Worship.
Home Church Resources for Sunday 20th June
Activity Sheet
Liturgies always available to you:
Morning Prayer 
Evensong
Compline (Contemporary language)
Compline (Traditional language)
Use what is meaningful in your context.
---
Notices for Weekend 19th/20th June 2021 – Trinity3
Don't miss out – check the details and sign up for Outdoor Church 27th June

more details, music clips to sing along to in advance at home and the sign up form can be found here
---
This Week
Saturday – the Return2Church service will be at the usual time of 17.00. We use a small variety of evening liturgies in a small and safe and friendly environment. This weekend an AnteCommunion which allows us the familiarity of the Eucharistic Liturgy while still limiting risks. No need to sign up, we look forward to you joining us. (Masks and Distancing still in place)
Sunday –  normal Online service follow the link above
Return2LiveMusik – the last two Saturday's we have been blessed, not only by being able to sing at R2C and the playing of our organist Stephen, but also the accompaniment of Valdis on trumpet. Here are details of the concert he has been warming up for:
https://www.stuttgart-west-evangelisch.de/musik/konzertinfos#c1469308
---
This week as every week…
Bible Study (Wed 19:30) and Compline (Sun 21:00) – Codes from the Chaplain as usual and new folk always welcome either as a one off visit or on a regular basis
Our ZoomCoffee will be at the usual time of 10.30 this Sunday – Code from chaplain@stcatherines-stuttgart.de
---
---
Prayer Post
for the family and friends of Jutta Ross as her funeral takes place today (18th June).
for baptism anniversaries and for birthdays in June and the two families preparing for the Baptism of their new arrivals – Dan and Freddi – for parents and godparents
for peace in the Middle East following changes in leadership there
for those anxious or fearful of the pandemic as well as the vaccines
---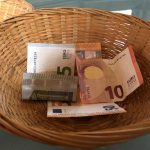 If you have the means to do so, please give what you would have put in the weekly collection plate via bank transfer.
Kontoinhaber : Friends of the English Church e.V.
IBAN: DE39 6009 0100 0587 2530 02
Bank: Volksbank Stuttgart
For regular giving to St. Catherine's setting up a "Dauerauftrag", if you can, means you don't have to remember to do this at the end of every service and helps support the on-going fixed costs of St. Catherine's.
Thank you supporting our church.
Yours Lord is the greatness, the splendour and the majesty.
Everything we have comes from you and of your own do we give you.
---
Organ appeal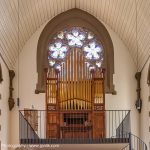 Those of you with an attuned ear will have noticed that over the Christmas period most of our Virtual Choir music featured a guest organ, as the one at St. Catherine's was in need of repair. Work has started and the organ is now back in service. But we are still working to support the Old Catholics in gathering funds to pay for repairs and maintenance. Thank you to those who have donated, there is still more to be done. The link here https://stcatherines-stuttgart.de/organ/ gives more details. If you have friends who like to support Church Music please pass it on to them. Thank you.
---