Welcome to the Easter Season

This will be our home for the Easter Season. There is a lot on offer for every generation. Much of it is suitable for inviting friends and family to join with you via a FaceTime type platform.
You are especially welcome if you are new to St Catherine's or new to our Online Worship.
Home Church resources for Sunday 11th April 2021
Liturgies always available to you:
Morning Prayer 
Evensong
Compline (Contemporary language)
Compline (Traditional language)
Use what is meaningful in your context.
---
Notices for 18th April 2021
This week
R2C – on hold. In Stuttgart and all the surrounding Landkreise the case numbers are over the 100:100000 limit and the Notbremse has been pulled. In the interests of keeping people safe: reducing the need for travel on public transport and demonstrating our care for others through our contact reduction R2C services have been put on hold at present.
HomeChurch resources will be available on Sunday morning as usual.
ZoomCoffee, Bible Study, Zoom Compline – Codes from the Chaplain as usual.
---
Saturday May 15th -18:00 on Zoom
Full details of the procedure for signing up to attend and the conduct of this year's ACM can be found here. Nominations for election close on 30th April, registration for attendance closes 13th May.
---

Whether you were able to join us on Palm Sunday for the Passion Reading or not plans are developing for the next such event…
The Service: Rogation
(for what this is or means click on the link, for a reminder of last year's service click here)
The Date: Sunday 9th May
time yet to be confirmed (either 11.00 which is a time we know and love or 16.00 which means those from other countries – east or west – can join us)
I want to fly Rogation this year under the banner of #PlacesNotProgrammes
The Pandemic has driven political and economic, educational and social, health mental and physical into a frenzy of micro and macro management and programmes.
Few (but some yes) have recognised and admitted that a virus cannot be micromanaged into our parameters – we are not used to having terms dictated.
Rogation for us this year I would like us to reclaim our Places – please join in …….
Your task (for ALL ages and generations):
Pick a Place – where you live or work or go to school or ….?
Send in to chaplain@stcatherines-stuttgart.de –
where is your place?
what makes it special to You?
what makes it special to the area? (this might be a hospital or a lake or an industry or a park or a historical / cultural something……)
photographs? yes please / little peeps a drawing? yes please
anything else creative – a poem an artist associated with the place…. You choose
what is sent in will be assembled into a service ….. (with prayers and readings and songs and …)
please send in even if you don't live in Stuttgart
please send in even if you can't join in the service on the day
the more is sent in the more interesting and meaningful the service will be !!
have fun
---
PrayerPost
– we hold in our prayers the countless bereaved, but this week also among them all who will mourn the loss of HRH Prince Philip and closer to home St Catherine's member Jutta Ross. May they rest in peace and their loved ones find comfort and strength in God's abiding presence.
– for all who have their baptism anniversaries in April ( Michael and Ben and Christopher and Philippa and Laura and Theo plus any adults) and for all who celebrate a birthday this month.
– for all considering and/or preparing for Confirmation (let chaplain know if you want to join in – service moved possibly to  Saturday 17.07.21)
– for the ongoing roll out of vaccines across many parts of the world and those seeking justice within that process and those places still waiting for Vaccines to be available
– the places currently experiencing extreme violence and civil unrest
– for those who have especially asked for prayer
---
---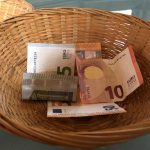 If you have the means to do so, please give what you would have put in the weekly collection plate via bank transfer.
Kontoinhaber : Friends of the English Church e.V.
IBAN: DE39 6009 0100 0587 2530 02
Bank: Volksbank Stuttgart
For regular giving to St. Catherine's setting up a "Dauerauftrag", if you can, means you don't have to remember to do this at the end of every service and helps support the on-going fixed costs of St. Catherine's.
Thank you supporting our church.
Yours Lord is the greatness, the splendour and the majesty.
Everything we have comes from you and of your own do we give you.