Welcome to our Home Church Resources page.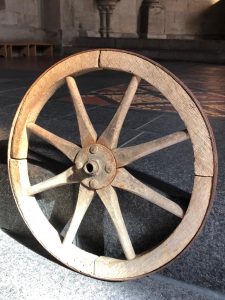 This will be our Sunday Home for Creation Season and beyond into the Kingdom Season. We switch now to St Paul's first letter to the Thessalonian Church to accompany us. You are especially welcome if you are new to St Catherine's or new to our Online Worship Resources.
Liturgies always available to you:
Morning Prayer for Ordinary Time
Evensong
Compline (Contemporary language)
Compline (Traditional language)
Resource page with audios, hymns and reflection for St. Luke, Sunday 18th October.
Use what is meaningful in your context.
SSP: children's activity sheet
SSP: children's colouring sheet
Notices for 25. October
Return2Church – is currently on hold due to rising C-19 figures in and around Stuttgart which is our catchment area for travel. Please join with the now extensive options online. (see above)
ZoomCoffee may resume on Sunday 25th October (10.30), please let Kara know so she can send you the code (chaplain@stcatherines-stuttgart.de). So far the interest is minimal, so perhaps it is no longer a felt need ?
PrayerPost
– for the range of online liturgies now once again the only worship option open to us, that people would be nurtured and blessed
– for all who meet in any of our groups – ZoomCoffee (?) on Sundays and Zoom Bible Study on Wednesdays and Coffee with Alison once a month and those groups currently not meeting: LEGS / PINTS still on hold, also the PrayerBreakfast is still on hold and we long for the fullness of such meeting with one another to be possible again
– for those returning to working from home or reduced hours or facing unemployment and redundancy and all the hardship and insecurity those bring
– for the sick and the dying and those who care for them
– for the increasing number of countries which are suffering from renewed cases of C-19 and further restrictions on daily life and travel and the heads of state who are once again pushed to their limits as the second wave takes hold.
---
---