InChurch – Sunday 10th July – 12:00 – A Service of the Word – we welcome Rev'd Matt Johnson as our preacher this morning.
AtHome – anytime Online
There are other liturgies to choose from and our choir archive to dip into here.
Abroad – Pilgrimage with Rev'd Ken Dimmick 
14-21 August in Norfolk UK – more details from chaplain@stcatherines-stuttgart.de
OnZoom – Bible Study Group – Wednesdays@19:30 – (code from biblestudy@stcatherines-stuttgart.de)
= please note this group now has its summer break =

OnZoom – Sundays@21:00 – Compline lasting around 20 minutes
(code from communications@stcatherines-stuttgart.de)
= please note now on summer break =
---
OutdoorChurch with Communion
Sunday 31st July @11.00
Schloß Solitude- behind the Schloss
stay on to picnic afterwards if you can
---
---
Prayer Post

We pray:
for St Catherine's as we all engage in the post-pandemic rebuild
for the sick and those caring for them, those in treatment and those awaiting tests, and all those learning to live with a changed view of themselves because of sickness
for Afghanistan, for Ukraine, for Bangladesh – earthquake, war, floods
for all who are hurting in our world – who will you pray for ?
---
Collection Plates: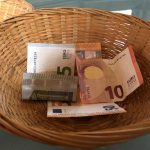 St. Catherine's is a self-supporting church. If you are new to St. Catherine's or have not yet set up a regular bank transfer, please give what you can online via our virtual collection plate.
We have resumed having a Retiring Collection at services for any visitors and for those who prefer to 'give' in cash.

If you would like to support the Diocesan Appeal for Ukraine more information can be found here please give directly.
---