Remembering Her Majesty Queen Elizabeth II
May she rest in peace and rise in glory.
Our prayers are with the royal family and all those who mourn.
The Church of England has opened an online book of condolence
Church bells in the UK, and our St. Catherine's bells, have been rung today in her memory.
---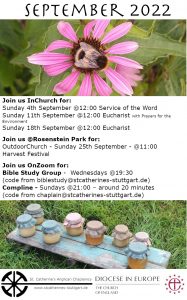 InChurch – 12:00 Eucharist with prayers for the environment. Also any youngsters please bring school bags / pencil cases, any students and education professionals to bring diaries for blessing ahead of new academic year.
OnZoom Bible Study Group – Wednesdays@19:30
zoom code available from biblestudy@stcatherines-stuttgert.de 
Concert – Sound the Trumpet!
The Archdeaconry Synod invites you to support our concert in aid of St. Catherine's.
More details can be found here – please share the link and flier with all those you know who are lovers of music – or would just like to support us. You can also share our Facebook Event once it goes live.
Helpers are being sought to sell ticket and host the reception before the concert – e-mail soundthetrumpet@stcatherines-stuttgart.de to sign up (reduced ticket price for helpers)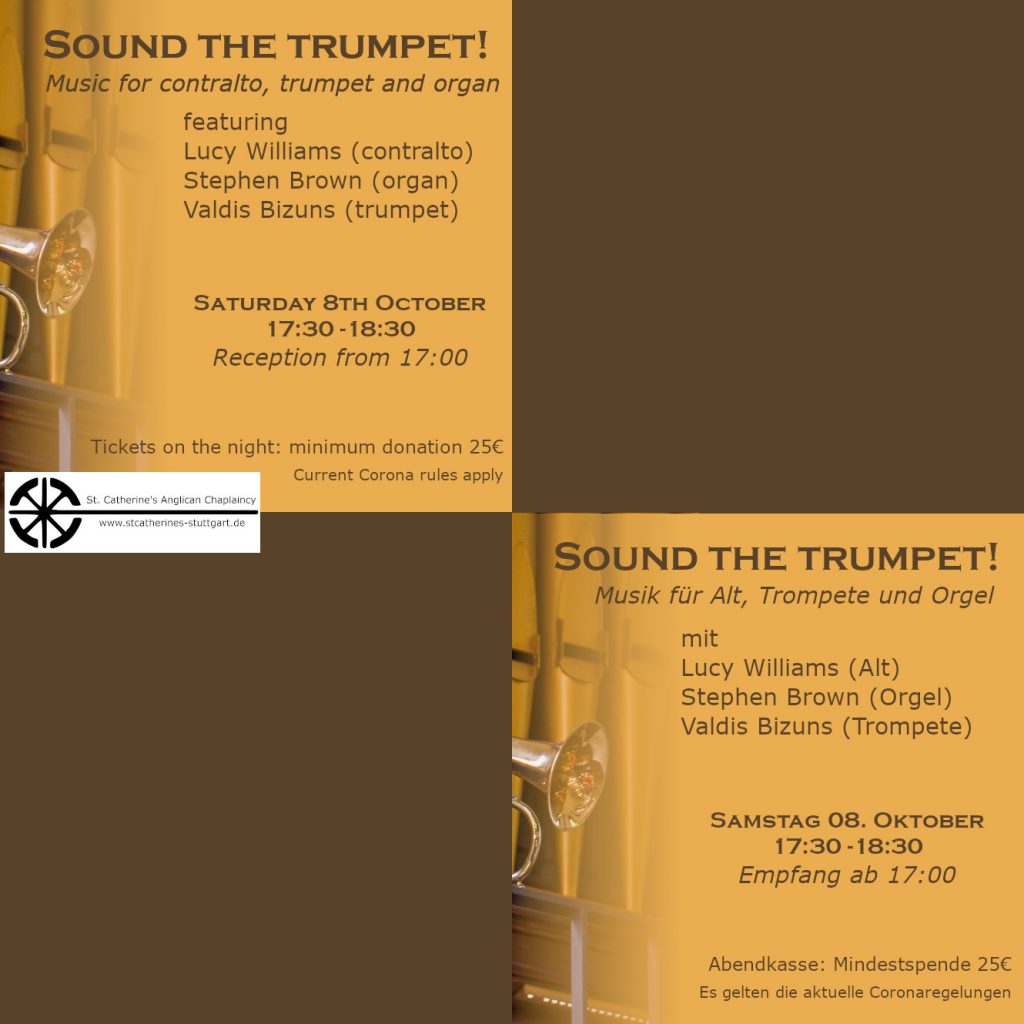 Prayers:
During the month of September (specifically 01.09.-04.10.) the Church of England focuses on the fifth of the 'Anglican Marks of Mission': strive to safeguard the integrity of creation and sustain and renew the life of the earth
This will be the focus of our collective prayer in these weeks.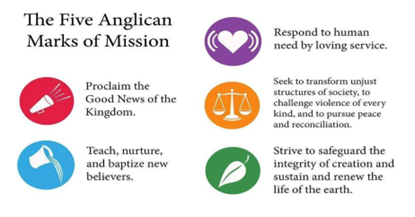 ---
Collection Plates: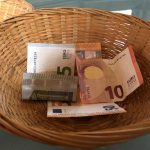 St. Catherine's is a self-supporting church with a negative budget. If you are new to St. Catherine's or have not yet set up a regular bank transfer, please give what you can online via our virtual collection plate.
We have resumed having a Retiring Collection at services for any visitors and for those who prefer to 'give' in cash.