This weekend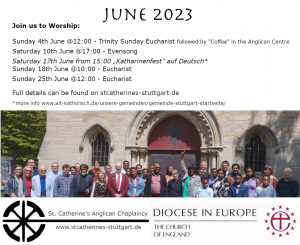 Sunday 25th June @12:00
Eucharist with Tweens provision
On the last Sunday of the month we hold our Kleiderkammer for refugees in the Anglican Centre. If you have any clothing donations for Kleiderkammer please bring them with you to church and drop them into the centre before the service.
There will be no coffee time in the Anglican Centre this Sunday.


---
The Anglican World beyond Stuttgart
– The next meeting of the Council of Anglican Episcopal Churches in Germany is "educational" and open to all! It is from 7 – 9 September 2023 in Frankfurt and the theme is "Defending Democracy: the role of the churches in the democratic process." Find out more
– Diocesan Conference: God's Kaleidoscope – the International Call to Racial Justice, 8th-11th November in Freiburg im Breisgau Request more information
– Explore the renewed Diocesan Website … https://www.europe.anglican.org/
---
Prayers
we pray for our Chaplain-designate and those who will see us through the interregnum.
we pray for Kleiderkammer and Kathy's Vesper, those who serve and those who are served
we pray for our children and young people, their parents, teachers and all those who will influence their faith journey
we pray for areas of conflict

---
Collection Plates: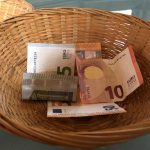 St. Catherine's is a self-financing church which depends entirely upon the donations of those who worship with us and others who generously support us.
If you are new to St. Catherine's or have not yet set up a regular bank transfer, please give what you can online via our virtual collection plate.
We have resumed taking a collection during services for any visitors and for those who prefer to 'give' in cash.
---
Interregnum
During the interregnum/vacancy your first point of contact for all questions relating to
St. Catherine's are the Church Wardens
contact@stcatherines-stuttgart.de – WhatsApp – 0163 222 8997
(messages will be read on a once a day basis)