This Sunday
Eucharist for Pentecost @12:00
with "installation" of the Wardens by Archdeacon Leslie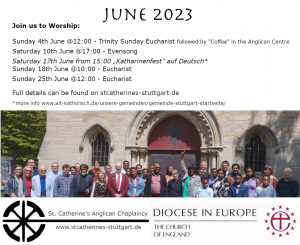 ---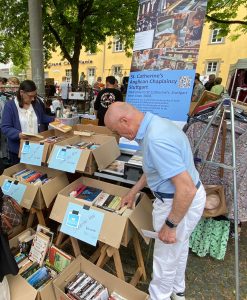 Thank you to all those who helped with and donated books for our English Book Stall at the Karlsplatz flea market last week. 150Euro was raised for the Share the Meal fund.
---

Thank you to all those who have contributed to Kara's leaving "Aktion" (Share the Meal tins are still open – currently at 1339 meals)
Thank you for cards signed, meals cooked, prayers said, flapjacks given, appreciation expressed, photos taken…
---


---
Save the Date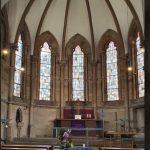 On Saturday, June 17, a community festival will take place in and around St. Catherine's Church, to which the Old Catholics have invited us. The festival begins at 15:00 with a Eucharist. Afterwards there will be coffee and cake, later more drinks and delicious food. The end is planned for around 9 o'clock in the evening. Entertainment will be provided and there will be opportunity for fellowship and conversation. This festival is an attempt to revive the traditional earlier "Katharinenfest". Come and bring your friends.
---
Prayers


we pray with thankfulness for the worldwide church especially those who started us on our journey in faith
we pray for our Wardens as they officially start their new term of office
we pray for Julie, Solomon, Matt – their ministries among us in these coming weeks and months
we pray today for Kleiderkammer and Kathy's Vesper, those who serve and those who are served