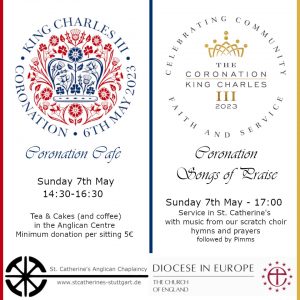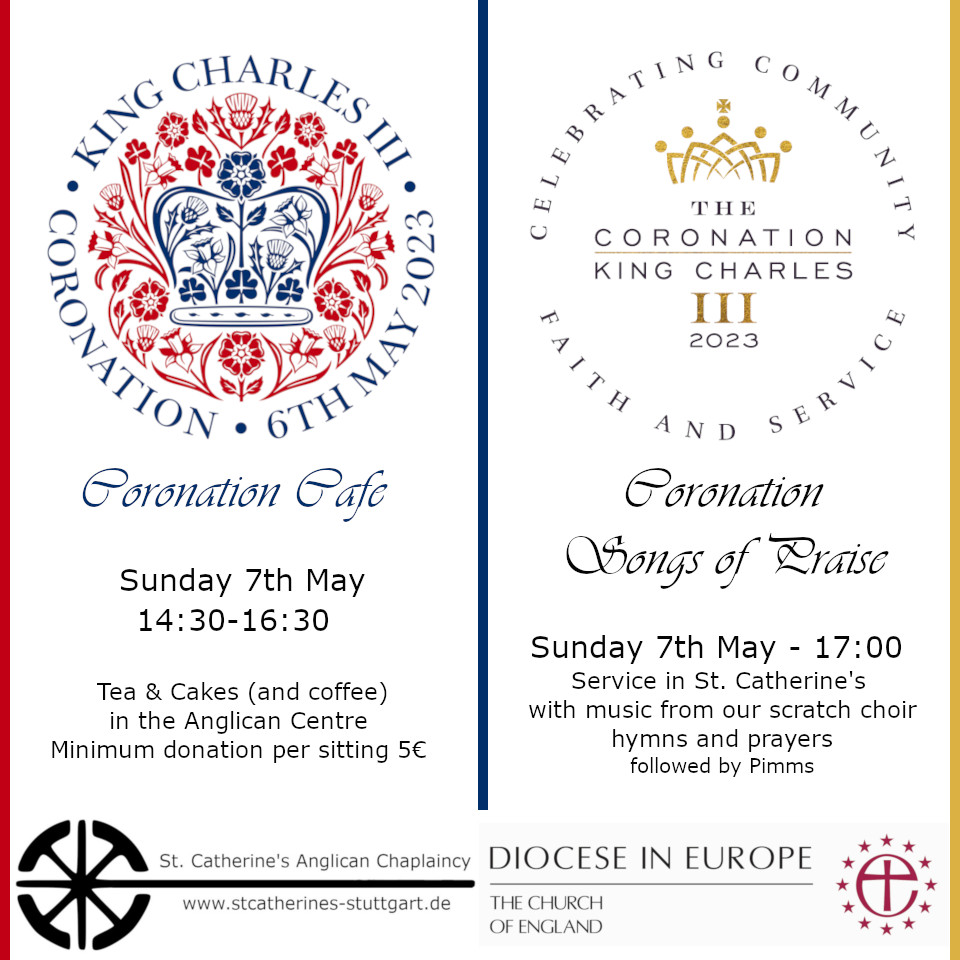 This Sunday –
Coronation Song of Praise
From 14:30-16:45 we will be offering afternoon teas at the Anglican Centre. A perfect chance to sit down with friends, celebrate English cake and discuss the previous days events (the coronation or the soccer).
At 17:00 there will be a 'Songs of Praise' service in St. Catherine's with music from our scratch choir, hymns to join in singing and prayers for King Charles III.
Following the service everyone is invited to spill out into the sunshine (we live in hope) to raise a glass of Pimms or non-alcoholic Punch.
---
Share the Meal
Currently the Share the Meal total stands at 929 children fed.
The items for donations in the Anglican Centre have now gone, but if you would still like to donate to the Chaplain's Clear Out and Leaving Fund in thankfulness for Kara's ministry here, you can place a donation in the tins at the back of church which will be there throughout May – and all monies donated will feed children.
If you wish to give electronically, please donate directly to Share the Meal please e-mail sharethemeal@stcatherines-stuttgart.de with how many meals you have donated so that they can be added to the total.
Of the larger items mentioned in the musings still to go are:
– King sized bed (in case you know anyone who has need and space for one)
– Ikea shelves – only 1 left
Photos available on request chaplain@stcatherines-stuttgart.de
---
Prayers
we pray for those celebrating new life, new hope and new joy in their lives
we pray for those who have been robbed of life and joy by the actions of others
we pray for King Charles, the United Kingdom and the Commonwealth of Nations
we pray for our Chaplaincy and our Chaplain as her contract draws to a close and we all prepare for whatever the glorious future God has for us
we pray for all people and places not at peace
---
WhatsApp Information Service
Would you like at WhatsApp message on Friday reminding you what time church is ? If so email news@stcatherines-stuttgart.de for more details.
---
Helpers needed for the Flohmarkt stall on Sunday 21st May – speak to Bernd S. or mail booksale@stcatherines-stuttgart.de