InChurch – Saturday @17.00 – 18.00 'A Question of Faith' instead of a service – by all means submit a question ahead of time to communications@stcatherines-stuttgart.de or bring one with you
AtHome – Sunday anytime Online – liturgies and bible readings and dip into our choir and sermon archives
OnZoom – Sunday @21.00 – 21.30 Compline – short prayerful service to conclude the weekend – code from communications@stcatherines-stuttgart.de
---
This week as every week…
Bible Study is taking its summer break and will resume in August (watch this space)
---
Advance Notice…
In August Gathering4Worship – a return to Sundays in church
In August it would be truly wonderful if anyone and everyone who has a bit of time to spare could gather and give a bit of love to our Anglican Centre. A number of us have kept things going but it could do with some cleaning and freshening up and a new lease of life and love  – you get the idea. Volunteers please email chaplain@stcatherines-stuttgart.de with availability.
---
Prayer Post
for all who continue to suffer from floods or extreme temperatures and those services that are working at the forefront
for those anxious or fearful of the pandemic as well as the vaccines and variants
for those travelling for work or leisure
---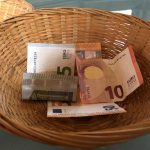 If you have the means to do so, please give what you would have put in the weekly collection plate via bank transfer.
Kontoinhaber : Friends of the English Church e.V.
IBAN: DE39 6009 0100 0587 2530 02
Bank: Volksbank Stuttgart
For regular giving to St. Catherine's setting up a "Dauerauftrag", if you can, means you don't have to remember to do this at the end of every service and helps support the on-going fixed costs of St. Catherine's.
Thank you supporting our church.
Yours Lord is the greatness, the splendour and the majesty.
Everything we have comes from you and of your own do we give you.