Add yourselves to our gallery!
St. Valentine's Day (14th February) is a time when we traditionally think of love. As we are still restricted in our social interactions, maybe we can remind each other what we looked like on our first date, our first holiday with our partner, our wedding day or the first meeting with a special person in our lives… if you dig out and send in a photo, we will create a gallery and you can see who you recognise. (and hopefully in the process will relive some happy memories) please send to webmaster@stcatherines-stuttgart.de or chaplain@stcatherines-stuttgart.de
Photos will be posted anonymously and online for a limited time only.
What's on?
R2C – Traditional Evensong at 17:00 on Saturday 30th January in church. Please book yourself in for the service – this is now compulsory. (chaplain@stcatherines-stuttgart.de).
HomeChurch – resources for Online Worship will be available from Sunday morning.
Zoom Events – new joiners always welcome –
ALL codes from chaplain@stcatherines-stuttgart.de
=Coffee – Every Sunday morning @10.30
=Compline – Every Sunday evening @21:00
=Bible Study Group – Every Wednesday evening @19.30

=Discernment through Contemplation – monthly on Tuesdays  @0900
PrayerPost
– for the roll out of vaccines across many parts of the world
– for all who need a 'fresh start' in life
– for those who live with fear and anxiety
---
---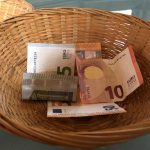 If you have the means to do so, please give what you would have put in the weekly collection plate via bank transfer.
Kontoinhaber : Friends of the English Church e.V.
IBAN: DE39 6009 0100 0587 2530 02
Bank: Volksbank Stuttgart
For regular giving to St. Catherine's setting up a "Dauerauftrag", if you can, means you don't have to remember to do this at the end of every service and helps support the on-going fixed costs of St. Catherine's.
Thank you supporting our church.
Yours Lord is the greatness, the splendour and the majesty.
Everything we have comes from you and of your own do we give you.