This Sunday – Palm Sunday Eucharist – 12:00
If you would like to take a part in the Passion Reading e-mail chaplain@stcatherines-stuttgart.de by Thursday evening.
Following the service: Annual Church Meeting
Join us to review the Chaplaincy's year, review the accounts and elect Wardens and Council for the coming year and Deanery Synod representatives for a period of three years.
All are welcome to attend the ACM, but only those listed on the current Electoral Roll are entitled to vote or stand for election. Apologies should be sent to acm23@stcatherines-stuttgart.de
Still considering standing for election? Nomination forms for elections should be returned to the Electoral Roll Officer by 23:59 Friday 31st March. electoral_roll_officer@stcatherines-stuttgart.de
We pray for our Church as we each prayerfully consider who shall serve as Wardens, on Council and as Deanery Synod representatives.
The deadline for submitting AOB items has now passed. Any further questions can be addressed by the new Council once it convenes.
Holy Week
Resources will be available online .
The opportunities to worship together are listed below.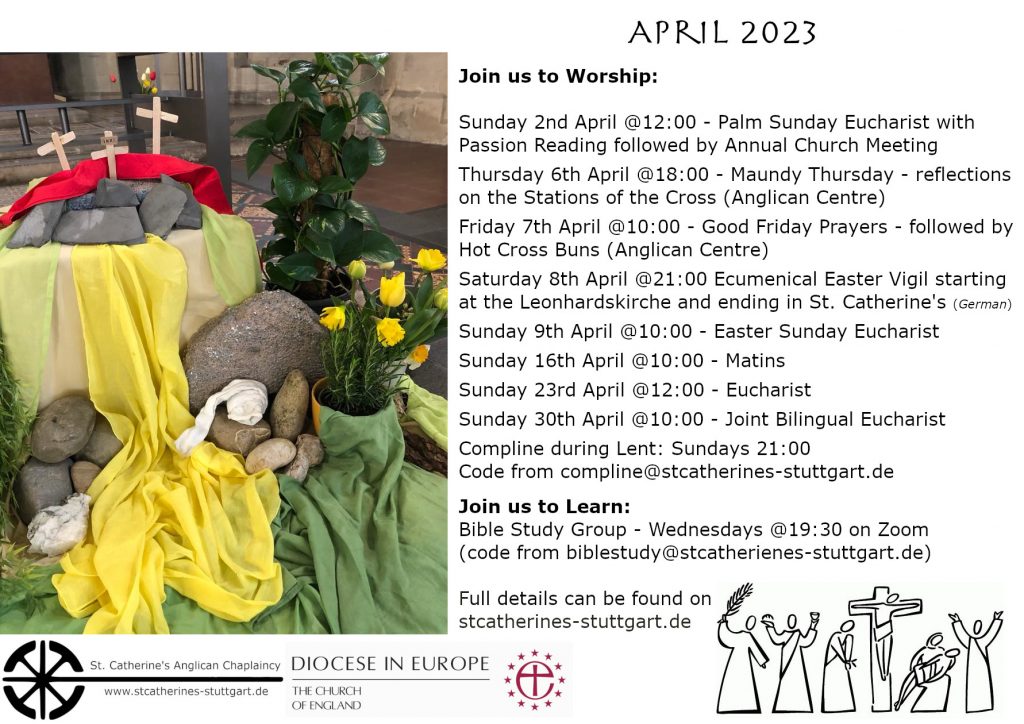 ---
Prayers
we pray for those who mourn, the sick and those struggling at present
we pray for those standing for election as Wardens, Deanery Synod Reps and Council Members for 2023 (and those still considering standing)
we pray for our Chaplaincy and our Chaplain as her contract draws to a close and we all prepare for whatever the future may hold
we pray for all people and places not at peace