Sunday 10th September – Eucharist @12:00
with Tweens provision during the service
Please join us for coffee in the Anglican Centre afterwards.
Support what you value – join our community of planned givers
If you missed the e-mail this week find out more here about how you can help make St. Catherine's financially sustainable for the future.
---
We pray for…
our Bishops Robert and David as Bishop David announces his retirement.
we pray for our new Chaplain as he prepares for his move to Stuttgart
we pray for our welcome team, sacristan and coffee team
we pray for those working in agriculture at harvest time. Those celebrating God's blessings and those facing floods, fire, famine and loss of livelihood.
---

Sign up for the Diocesan Lay Learning Course led by Dr. Clare Amos – starting in September 2023
Sunday 1st October @12:00 – Harvest Festival with collection of non-perishable goods for the Schwäbische Tafel.
---
Licensing of new Chaplain
Our new Chaplain, the Rt. Revd Antonio Ablon, will be licensed on Sun. 24th September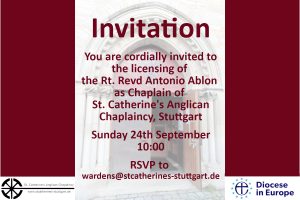 Volunteers are sought to help with the reception:
– before the service: to butter Bretzels, to help set up
– after service: to serve Sekt / Orange
– after the reception: to help clear away
Please contact Jackie or e-mail reception@stcatherines-stuttgart.de
---
Booksale – Saturday 14th October

Helpers and donations of good quality, readable, English books needed. Also puzzles, games and on the day cakes, bakes and edible goodies. Look out for requests to help with the event – we need people to move books, sell books, help with refreshments…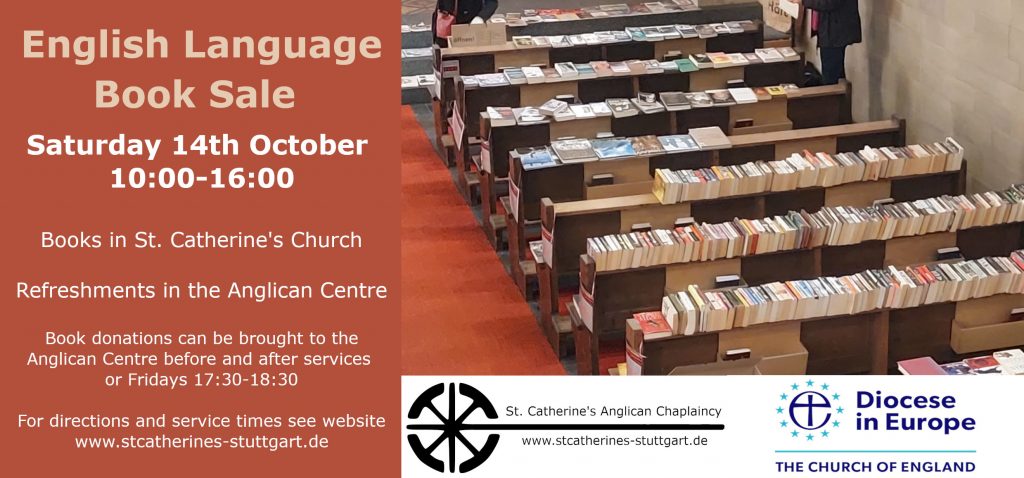 ---