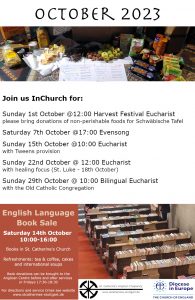 Sunday 15th October – Eucharist @10:00
With Tweens provision
Dear friends, sisters, and brothers,
on Sunday we will reflect together on the Parable of God's Wedding Banquet which was rejected by the first invitees and so it was extended to the people on the streets.
I am excited to see you and share with you my reflection on the matter and to hear yours during our casual chats after the service.
+ Antonio
---
Saturday 14th October – Book Sale with refreshments – 10:00-16:00
Setup – Friday 17:30 – moving books into church
Delivery of books, cakes, biscuits, soups etc. Saturday from 09:30
Book Sale opens at 10:00 – come along to help, spend and share the flier below with your friends and neighbours.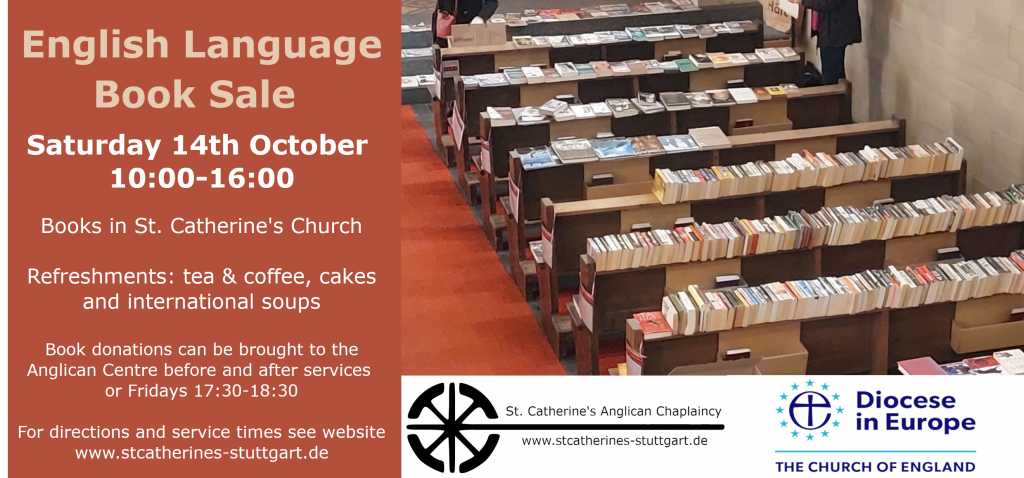 ---
Prayers

We pray for those preparing for the Book Sale, those who will help, those who will come and buy, those who will come for fellowship.
Bless the conversations that will be had with old friends, acquaintances not seen for a long time, with strangers and those stepping through our door for the first time who may become our friends.
We pray for peace: for those called up to fight, for civilians caught in the midst of conflict, for the desperate and fearful. Guide all our leaders in the ways of justice and peace.