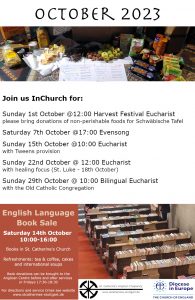 This weekend – Saturday 7th October @17:00  Evensong
if you would like to join us for dinner afterwards at Pukki's please RSVP. It will probably be too cold to sit outside so we will have to book a table.
Saturday 14th October – Book Sale with refreshments – 10:00-16:00
Donations of books, cakes, biscuits, soups etc. requested, also volunteers to help set up, serve and pack away.
Don't forget to tell your friends to come and buy!
Sunday 15th October – Eucharist @10:00
With Tweens provision
---
A request from the Chaplain
Dear everyone,
Here are some of the needs for my flat:
1. Washing machine
2. Bed
3. Closet
4. Small Dining table w/ chairs – found
5. Writing/office table
6. Bookshelves
7. Some cabinets and chairs
Note: I prefer to re-use and recycle things.
Blessings,
+ Antonio
Contact chaplain@stcatherines-stuttgart.de if you can help.
(By next weekend the Chaplain should also have a phone number.)
---
Sundays@10 Discussion Group
Our next meeting will be on Sunday 5th November @10:00 in the Anglican Centre. The topic will be "Which biblical character do you most identify with?"
We are then planning to read the book "Twenty questions Jesus asked and how they speak to us today" together. If you would like a copy ordering please e-mail sundays10@stcatherines-stuttgart.de by 7th October.
---
Prayers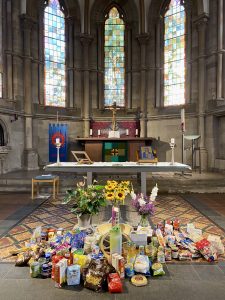 we pray for our musicians and singers, welcome team and sacristan
we give thanks for the harvest and for those who run projects such as Schwäbische Tafel
we pray for those who struggle to afford food for themselves and their families
Thank you to all those who donated goods to Schwäbische Tafel at our Harvest Festival last week.