This Sunday
Sung Matins @10:00
Thanks to the Old Catholic congregation testing a monthly evening service, we now have a regular 3rd Sunday in the month 10:00 service slot.
This month we have a special musical and liturgical treat – a service of Sung Matins.
Renovation of the toilet
From the 15th April the toilet in the basement will be out of use  for approx. 14 days due to renovation. We are asked to use the toilet next to the vestry, through the door to the right of the altar.
---
Share the Meal
As announced in last week's Chaplain's musings, there will be items available over coffee for the next three weeks which are looking for new homes. Please donate what you can in return to the Share the Meal fund. There is a donations tin available next to the items.
If you can't offer anything a home, but would like to donate to the Chaplain's Clear Out and Leaving Fund you can also place a donation in the tin at the back of church.
If you wish to give electronically, please donate directly to Share the Meal please sharethemeal@stcatherines-stuttgart.de with how many meals you have donated so that they can be added to the total.
Currently the Share the Meal total stands at 443 children fed.
Of the larger items mentioned in the musings still to go are:
– King sized bed
– 3 arm chairs
– Ikea shelves
– washing machine
Photos available on request chaplain@stcatherines-stuttgart.de
---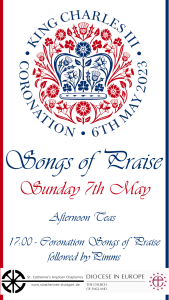 Coronation Prayers
There are leaflets available at the back of church, produced especially by the Church of England, to lead us in daily prayers for this extremely rare event and all whom it affects most. Please ask if you would like one.
Women's Group
The group will be meeting on Th 20th April and Th 25th May for more details speak to Alison or e-mail women@stcatherines-stuttgart.de
Frauen aus Internationalen Gemeinden.
You are invited to an "Osterkaffee" on Friday, 21st April 2023 from 4 to 6.30 pm in the Gemeindehaus der Lutherkirche, Martin-Luther-Str. 54, 70372 Stuttgart-Bad Cannstatt. For further information please contact Alison women@stcatherines-stuttgart.de
Marmalade
Due to the generosity of Christopher Sloan I have several tins of MaMade which, together with added sugar and water, can be turned into tasty marmalade. I also have a lot of jars waiting to be filled.  So please get in touch if you would like some marmalade. Minimum donation €4.50  and all proceeds go to  the church.
---
Prayers
we pray for those celebrating new life, new hope and new joy in their lives
we pray for those suffering the ongoing effects of actual and metaphorical earthquakes
we pray for our musicians, welcome team and sacristan
we pray for our Chaplaincy and our Chaplain as her contract draws to a close and we all prepare for whatever the glorious future God has for us
we pray for all people and places not at peace

---
St. Catherine's Library
We are making progress with the cataloguing and organising of the books in the Anglican Centre – for more details see https://stcatherines-stuttgart.de/st-catherines-library/
---