Welcome to our Home Church Resources page.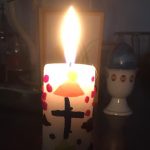 This will be our new Sunday Home for the next 15 weeks or so of Ordinary Time taking us into September. The Gospel of St Matthew will accompany us.
You are especially welcome if you are new to St Catherine's or new to our Online Worship.
You can follow the order for Morning Prayer for Ordinary Time
or expand it with weekly material given below.
Use what is meaningful in your context.
Resource page with audios, hymns and reflection.
Children's Activity Sheet
Children's Colouring Sheet
Photos of the Sunday School with their Pentecost Wreaths
A Trinity Creed
Return2Church: TrinitySundayAnteCommunion
---
---
Notices for Sunday 7th June
Return2Church – We continue with a now steady dozen using Ante-Communion Liturgy plus seasonal material as provided by Common Worship. Please register with our Church Warden Alison wardens@stcatherines-stuttgart.de or with Kara.
WorshipLearnPray – Children – We will be planning for and publishing the next project working towards something for our Outdoor service in early July.
WorshipLearnPray – Our gallery of prayer has been updated with pictures from Ascension Day walks and our Pentecost Collage and all things Life Affirming – Life Giving. Thank you to those who sent in photos for our Pentecost Collage
Bible Study Group will meet once again this Wednesday at the usual time of 19:30 via Zoom.  Let Kara know if you'd like to be included in the code email, without which you can't join in.
PrayerPost
– for all those travelling during these holidays that they may stay safe
– for all those who live daily in fear
---
Thank you for taking us some way towards covering the shortfall of Sundays without a physical collection plate.