InChurch – Sunday @12.00 – 13.00 'Gathering4Worship' – a Short Eucharist where we welcome to preach Prof Sahayadhas who is Head of Theology at the United Theology College in Bangalore India  (optional are refreshments outside our Anglican Centre from 11.30 – please bring your own) – Registration required – Sign up here
AtHome – Sunday anytime Online –
Bible Readings this weekend Trinity20:
Job 38.1-7 Psalm 104.1-10 Hebrews 5.1-10 Mark 10.35-45
There are liturgies to choose from and our choir archive to dip into here.
OnZoom – Sunday @21.00 – 21.30 'Compline' – code from chaplain@stcatherines-stuttgart.de
OnZoom – Wednesday @19.30-2015  Bible Study Group – code from biblestudy@stcatherines-stuttgart.de
InPerson – Women's Group
Keeping to our third Thursday in the month we are planning to meet on Thursday, 21st October from 10 until 12 in the Anglican Centre. As we are only a very small group at the moment we would welcome any newcomers, especially as we will be busy sorting books and other items for the Fundraising Event on Saturday, 23rd October. Please let me know if you would like to join us and I'll look forward to seeing you.
Alison – women@stcatherines-stuttgart.de
---
St. Catherine's Open House Fundraising Event – 23rd October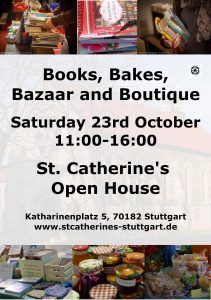 Over the next couple of weeks you may well be approached by a variety of people to help with their section of our Open House Fundraising Event – here are this week's requests for help from Susanna:
As part of St. Catherine's Open House, we're going to have a section with books and toys. It will only be half the size of our traditional booksale, but helpers will still be needed to organise it! On Tuesday, October 19th, from 18:30, we plan to get together in the Anglican Centre to sort through our stocks and prepare the books we want to display. On Friday 22nd, we will meet probably from about 17:00 to bring the books from the Anglican Centre and set up. During the Open House, from 11:00 till 16:00 on the 23rd, it would be good to have one or two "sales assistants". And after the event is over at 16:00 on Saturday 23rd, we'll need to put away the books we haven't sold. If you would like to help with any of these, that would be fantastic! Please let me know at booksale@stcatherines-stuttgart.de
If you have English language books or gently-used toys that you would like to donate, then do drop the off either during our sorting session on the 19th, during set-up on the 22nd or even at the beginning of the Open House on the 23rd.
Previous requests for help with home produce, boutique and accessories and refreshments can be found here
---
Prayer Post

We also pray for:
the upcoming Council Meeting, for guidance in their decision making and God's blessing of the implementation of those decisions.
all those countries where elections have taken place recently: among others Germany, Canada, Russia, Hong Kong, Iceland, Ethiopia, the Bahamas. Give wisdom and the will to seek the common good to those who will form governments and for those parties in opposition.
those anxious or fearful of the pandemic as well as the vaccines and variants
for those travelling for work or leisure
for October baptism anniversaries and birthdays
---
Looking ahead
Confirmation
We are hoping to hold our long postponed Confirmation service in early January 2022.
If you are interested in being confirmed (or have a young person in your household 14+ who might be ready for this step) please speak to the Chaplain.
Gathering4Worship – Sign up for Sundays in October
23rd October – St. Catherine's Open House Fundraising Event – fliers will be available in church on Sunday, please share the image from the website and the post on the St. Catherine's FaceBook account.
Return2Church next on Saturday 30.10. @17.00
ZoomCoffee next on Sunday 31.10. @10.30
---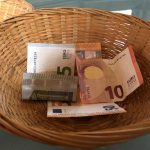 Virtual Collection: If you have the means to do so, please give what you would have put in the weekly collection plate via bank transfer or paypal.
Yours Lord is the greatness, the splendour and the majesty.
Everything we have comes from you and of your own do we give you.