InChurch – Sunday 5th June – 12:00 – Pentecost Eucharist
… we welcome today and pray for Revd Matt Johnson as he begins his PTO ministry in this diocese.

AtHome – anytime Online
There are other liturgies to choose from and our choir archive to dip into here.
Bible Readings for Sunday: Acts 2.1-12 and Psalm 104.26-37  and John 14.8-17
Collect for Sunday: Holy Spirit sent by the Father, ignite in us your holy fire; strengthen your children with the gift of faith, revive your Church with the breath of love, and renew the face of the earth, through Jesus Christ our Lord.
OnZoom – Wednesdays@18:00 – Diocesan Lenten Vigils with Prayers for Peace in Ukraine. Vigil with Prayers information
OnZoom – Bible Study Group – Wednesdays@19:30 – with Revd_Solomon_Benjamin (code from biblestudy@stcatherines-stuttgart.de)
OnZoom – Sundays@21:00 – Compline lasting around 20 minutes
(code from communications@stcatherines-stuttgart.de)
---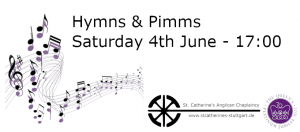 Our final social event / fund-raiser to celebrate the Platinum Jubilee of HM Queen Elizabeth II
There will be singing, toasting and cake!
Invite your friends – share our FaceBook Event – share the flier here.
The more the merrier!
---
Ecumenical
---
Prayer Post

We pray:
for Platinum events everywhere across the Commonwealth and give thanks for a 'life of service'
for all who will participate at Diocesan Synod this coming week
for these final days of reflection for our Confirmation Candidates – Anthoinette Brian Christopher Jordan Laurine Philippa Ruby Tracy
for safe travels in these school holidays
for birthdays and baptism anniversaries
for all who are hurting in our world – who will you pray for ?
---
Collection Plates: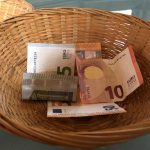 St. Catherine's is a self-supporting church. If you are new to St. Catherine's or have not yet set up a regular bank transfer, please give what you can online via our virtual collection plate.
We have resumed having a Retiring Collection at services for any visitors and for those who prefer to 'give' in cash.

If you would like to support the Diocesan Appeal for Ukraine more information can be found here please give directly.