InChurch – Sunday 12th June – 12:00 – Trinity Sunday Eucharist
we welcome Associate Priest Revd Julie Lipp-Nathaniel 

AtHome – anytime Online
There are other liturgies to choose from and our choir archive to dip into here.
Bible Readings for Sunday: Proverbs 8.1-4, 22-31 and Psalm 8 and Romans 5.1-5 and John 16.12-15
Collect for Trinity Sunday: Holy God, faithful and unchanging: enlarge our minds with the knowledge of your truth and draw us more deeply into the mystery of love, that we may truly worship you, Father and Son and Holy Spirit, One God, now and for ever.
OnZoom – Bible Study Group – Wednesdays@19:30 – with Revd_Solomon_Benjamin (code from biblestudy@stcatherines-stuttgart.de)
OnZoom – Sundays@21:00 – Compline lasting around 20 minutes
(code from communications@stcatherines-stuttgart.de)
---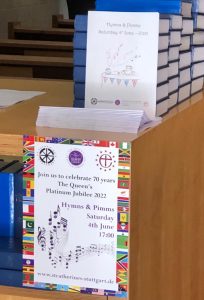 Hymns & Pimms – thank you to all those who helped, all those who came and all those who invited others.
Everyone agreed that it was the best singing we had been part of in a long time, and that the cakes, Pimms and Punch were fit for the Queen.
Photos so far are here – if you have more you'd like to share e-mail them to webmaster@stcatherines-stuttgart.de
---
Restock
---
Prayer Post

We pray:
for these final days of reflection for our Confirmation Candidates – Anthoinette Brian Christopher Jordan Laurine Philippa Ruby Tracy
for safe travels in these school holidays
for birthdays and baptism anniversaries – including Elliot being baptised this weekend
for all who are hurting in our world – who will you pray for ?
---
Collection Plates: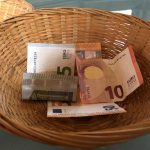 St. Catherine's is a self-supporting church. If you are new to St. Catherine's or have not yet set up a regular bank transfer, please give what you can online via our virtual collection plate.
We have resumed having a Retiring Collection at services for any visitors and for those who prefer to 'give' in cash.

If you would like to support the Diocesan Appeal for Ukraine more information can be found here please give directly.