Announcement:
Many thanks to all who attended the Annual Meeting on the 15th May and to those who prepared for it and those who prayed for it. Our Wardens for the coming year are Mrs Alison Seyerle and Dr Howard Perry – I commend them and our Council to your prayers. There is much work that awaits us as, with the increase in availability of vaccinations and decline in case numbers, we begin our journey back into what we might recognise as Church and Chaplaincy life, while not losing what we have learnt along the way.
Message from Alison: Many thanks to all of you who took part in the voting and offered their support. Together with Howard I will endeavour to carry out my duties as Church Warden as you would wish, and continue to support both the Chaplain and all at St. Catherine's, as we move into this next year.
This Weekend !
Saturday – we are back tentatively to Return2Church services at the usual time of 17.00. Those who have attended in the past will have had an email and anyone else please let Chaplain know you're coming so seating with distancing can be arranged.
Sunday – we are back to normal Online service for the Feast of Pentecost with some carry over from last year and some fresh material.
---
This week
Bible Study (Wed 19:30) , ZoomCoffee (Sun 10:30), Compline (Sun 21:00) – Codes from the Chaplain as usual and new folk always welcome either as a one off visit or on a regular basis
---
Prayer Post
for a day marked by the arrival of 'wind' we pray for all who struggle to breathe
for a day marked by the arrival of 'fire' we pray for all who have lost lives and loved ones and livelihoods due to Climate Change driven fires
for a day marked by the arrival of 'speaking other languages' we pray for those who are silenced by unjust structures and histories
for a day when we celebrate the arrival of the 'Holy Spirit' for all who seek holiness and for all who embrace all that God sends in our time


---
Organ appeal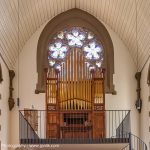 Those of you with an attuned ear will have noticed that over the Christmas period most of our Virtual Choir music featured a guest organ, as the one at St. Catherine's is in need of repair. Work has started, both on the organ, and on supporting the Old Catholics in gathering funds to pay for repairs and maintenance. Thank you to those who have donated, there is still more to be done. The link here https://stcatherines-stuttgart.de/organ/ gives more details. If you have friends who like to support Church Music please pass it on to them. Thank you.
---