This Week
Saturday – we are back more confidently to Return2Church services at the usual time of 17.00. We use a small variety of evening liturgies in a small and safe and friendly environment. This weekend the ancient liturgy of Evensong. Please let Chaplain know you're coming so seating with distancing can be arranged.
Sunday – we are back to normal Online service for Trinity Sunday.
---
This week as every week…
Bible Study (Wed 19:30) , ZoomCoffee (Sun 10:30), Compline (Sun 21:00) – Codes from the Chaplain as usual and new folk always welcome either as a one off visit or on a regular basis
---

Our first Outdoor Church service is scheduled for Sunday 27th June – more details and a sign up form can be found here
---
Prayer Post
for a day marked by the arrival of 'wind' we pray for all who struggle to breathe
for a day marked by the arrival of 'fire' we pray for all who have lost lives and loved ones and livelihoods due to Climate Change driven fires
for a day marked by the arrival of 'speaking other languages' we pray for those who are silenced by unjust structures and histories
for a day when we celebrate the arrival of the 'Holy Spirit' for all who seek holiness and for all who embrace all that God sends in our time
---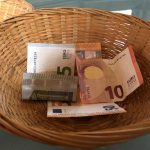 If you have the means to do so, please give what you would have put in the weekly collection plate via bank transfer.
Kontoinhaber : Friends of the English Church e.V.
IBAN: DE39 6009 0100 0587 2530 02
Bank: Volksbank Stuttgart
For regular giving to St. Catherine's setting up a "Dauerauftrag", if you can, means you don't have to remember to do this at the end of every service and helps support the on-going fixed costs of St. Catherine's.
Thank you supporting our church.
Yours Lord is the greatness, the splendour and the majesty.
Everything we have comes from you and of your own do we give you.
---
Organ appeal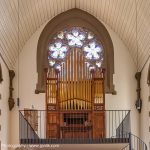 Those of you with an attuned ear will have noticed that over the Christmas period most of our Virtual Choir music featured a guest organ, as the one at St. Catherine's is in need of repair. Work has started, both on the organ, and on supporting the Old Catholics in gathering funds to pay for repairs and maintenance. Thank you to those who have donated, there is still more to be done. The link here https://stcatherines-stuttgart.de/organ/ gives more details. If you have friends who like to support Church Music please pass it on to them. Thank you.
---